Coaching Index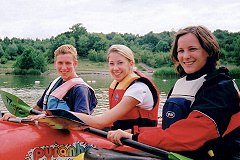 In 2003, after many years of paddling and unofficial coaching, I decided to give something back to the sport and became a qualified BCU kayak coach.
I am now a BCU Inland Level 3 Kayak Coach and actively coach with the Adur Canoe Club, where I can be found most weekends! Through this section of the website Iíve compiled coaching material that I hope will become an invaluable resource for both novice and experienced paddlers alike.
Please use the links below for information about the relevant topic.
PADDING SKILLS

ROLLING

PLAY BOATING

GAMES

GENERAL REFERENCE

RIVER RUNNING

River Leadership Techniques
Leapfrog
Eddy Hopping