---
Sierra Nevada 2001
April 2001, Foot and Mouth disease had closed the English countryside, ending any possibilities of Hang Gliding pretty much anywhere in the UK. John Barratt from Sussex Hang Gliding and Paragliding (now South Downs Hang Gliding) must have predicted this outbreak, as he'd timed his hang gliding trip to the Spanish Sierra Nevada Mountain range perfectly. So, on April 1st 2001, 6 of John's former, but recently qualified CPC students headed to Gatwick Airport for a flight to Malaga, Spain, for a hang gliding holiday that would fulfil our greatest expectations.
After meeting each other for the first time at Gatwick Airport, we boarded our flight to Malaga, Spain. The flight arrived in the evening where we met up with Ozzie, a member of the Southern Hang Gliding Club. All seven of us then set off to locate the 3 hire cars that John had pre booked for us so we could make our way to the town of Padul, our base location for the week. Up to this point things were going well, but in the typical fashion of don't speak too soon, we discovered there was no record of our hire car booking. Fortunately, Matt spoke fluent Spanish and after a short musical dialog between himself and the hire car personnel, he had arranged 3 cars, each with a roof-rack ideal for transportating our hang gliders (which we would collect later).
We left the car hire depot and headed to Padul, a small Spanish town about 10k South of Granada. John had already left England a week earlier with his camper van loaded with our hang gliders. All we had to do was meet up at the 2 luxury apartments that he had arranged for our stay. Around midnight we all arrived and celebrated the occasion with a few beers. By 2am it was time to sleep as Monday would be the first day of flying the Spanish mountains.
Monday 2 April 2001
The night arrival night had hid the surrounding countryside from us, so when Monday morning arrived, we were surprised to find ourselves in a beautiful Spanish town, surrounded by the Sierra Nevada mountains. A quick trip into the local town of Padul sorted us with breakfast and presented Tim with an opportunity to rebuild his Aeros Target Hang Glider that he'd short packed to an amazing length of just 2 metres for the Journey to Spain. This was the source of considerable entertainment to the rest of us as Tim struggled to assemble the pile of metal tubes into something that resembled a hang glider. Matt generously aided in the process and before long a complete hang glider had been assembled.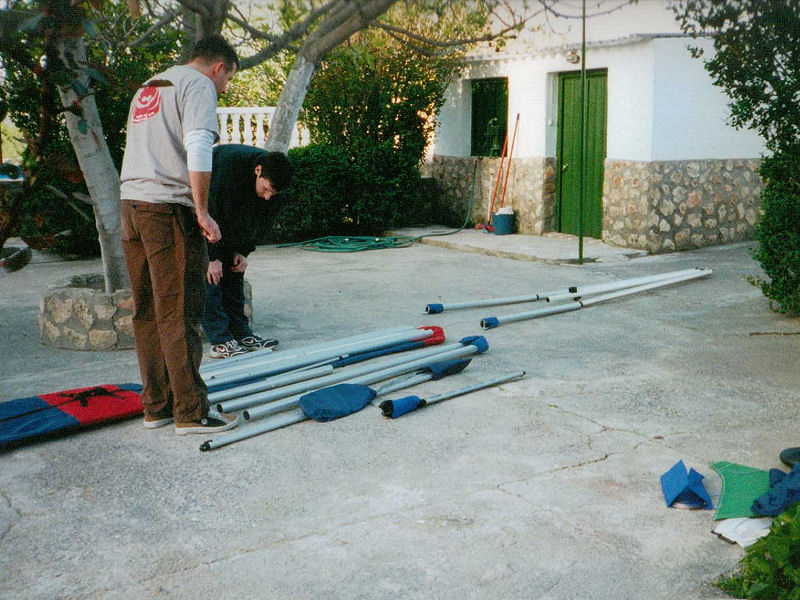 Glider Assembly
Tim re-assembles his Aeros Target hang glider after short packing it for the trip out to Spain.
2 Apr 2001

The first trip of the day was to the bottom landing field of the nearest site, Padul, for an inspection and a quick brief about our flight and landing approaches. The bottom landing field was an old disused micro-light landing strip about ½ a mile from our apartments. The landing strip was now a foot deep in crop, so we opted to use a small ploughed plot of land a bit further on.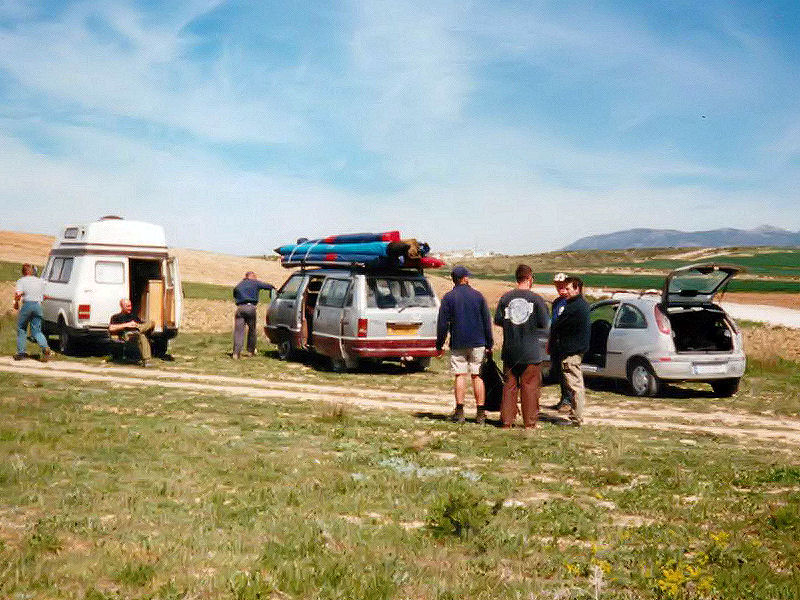 The Road to Padul
While heading up to Padul to launch our hang gliders, we stop off to scope for potential landing spots for Padul's alternative launch direction that we may use later in the week.
2 Apr 2001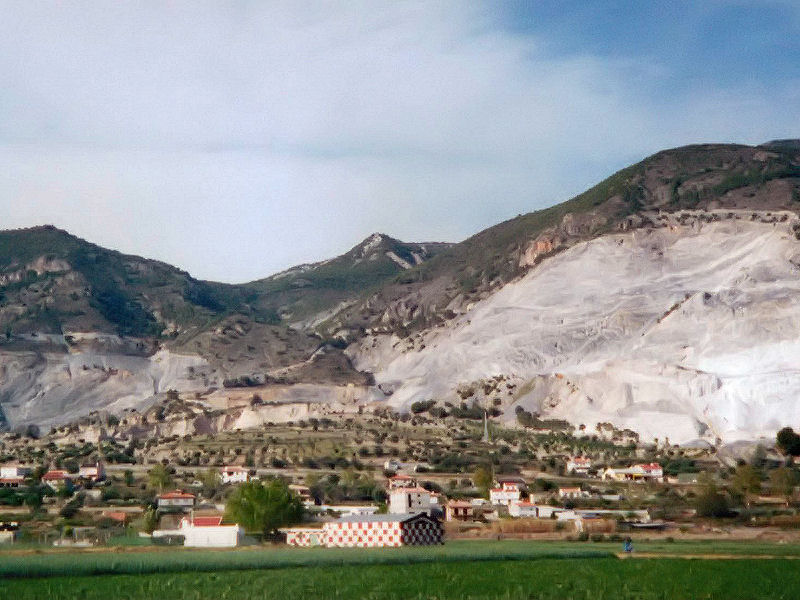 Padul South Launch
A view of Padul's south launch from the bottom landing field. The quarry can be clearly seen by the gouge it's taken out of the mountain.
2 Apr 2001

A windsock was inserted in the centre of the crop before we left for the launch point that was 1,500ft higher, and about a mile away as a crow flies. The trip to the take off was up a steep dirt track at the back of the mountain. John's prior scouting trip had ensured that we arrived at the top without making a wrong turn (something that John had done in a previous visit).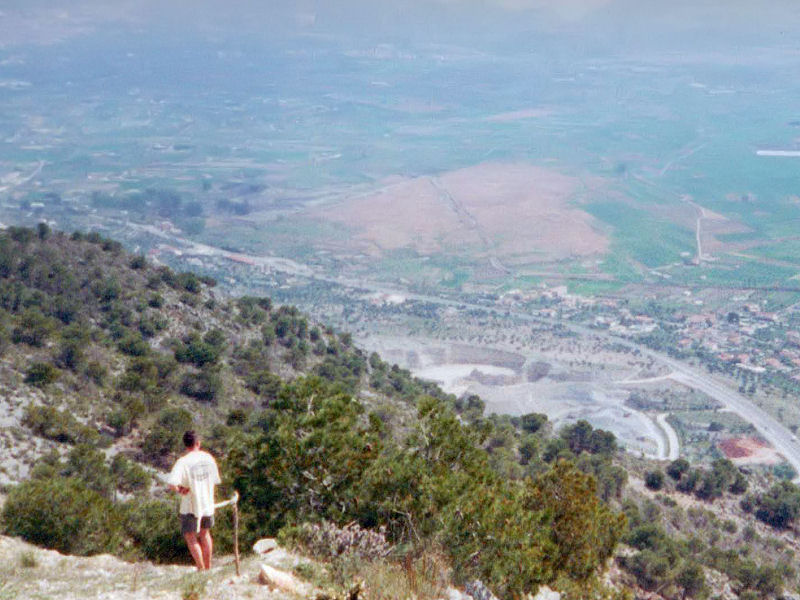 Padul South Launch
Our first launch site for the week, Padul's South launch.
2 Apr 2001

At the launch point our gliders were rigged in preparation for take off. The view was simply fantastic, and for most of us, this would our first truly high top to bottom. The launch point was somewhat daunting at first appearance. It consisted of a gravel slope around 20/30 metres long that concluded with a reasonable 1,000 foot drop into the quarry below.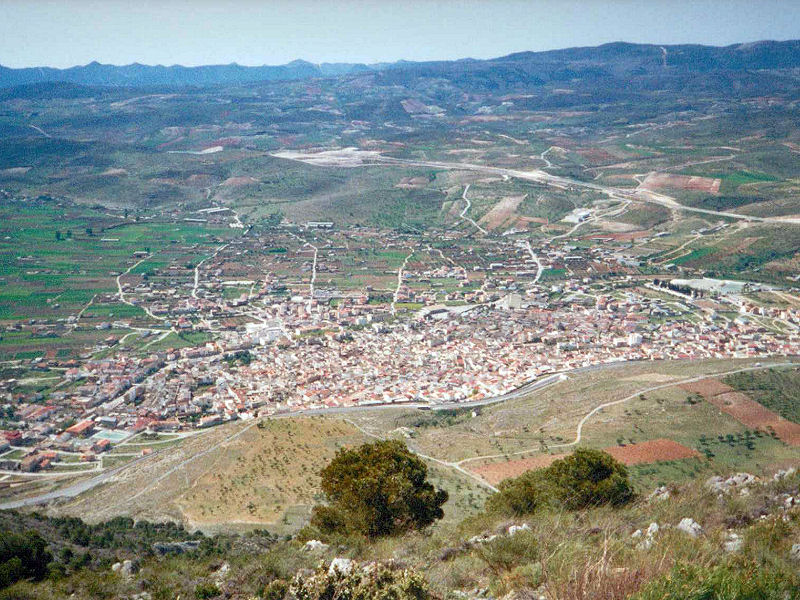 Padul
The town of Padul viewed from the southern launch site.
2 Apr 2001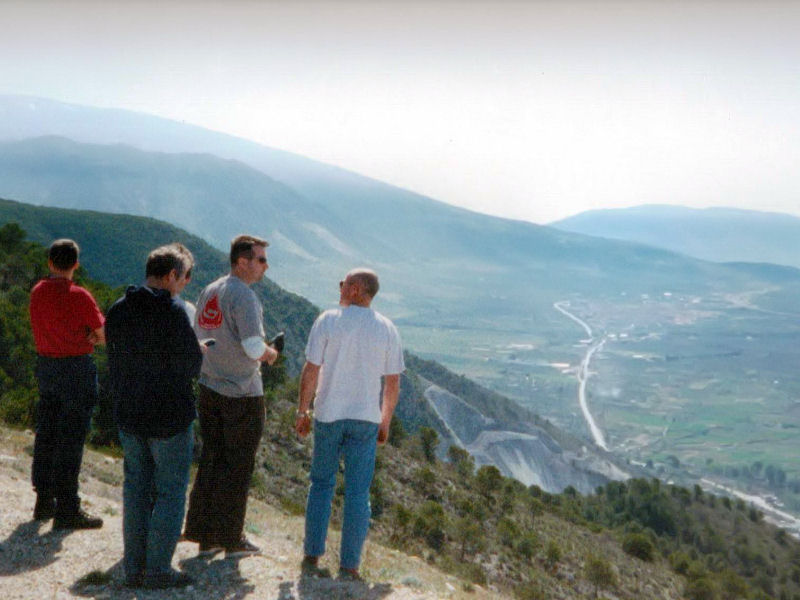 Inspecting Padul's South Launch
Everyone carefully inspects Padul's south launch before returning to their gliders to rig them.
2 Apr 2001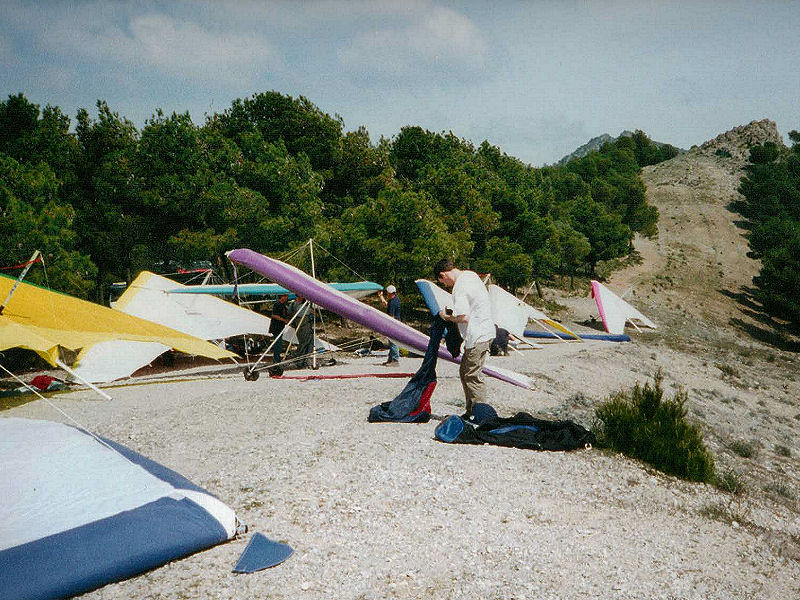 Padul Rigging Area
It's the first day of the Sierra Nevada trip and our first launch site is Padul. This is the launch area where our gliders are rigged and inspected ready for flight.
2 Apr 2001

John prepped us with a simple flight plan: A good take off; turn to the left, and an easy glide to the landing field. Simple we thought, and we were all itching for our first flight! Somehow, Tim with the least flying experienced managed to be at the front of the queue and was first to launch. A good launch, but John had mentioned something about turning to the left and heading straight to the landing field? Tim commenced his first flight with an elegant turn to the right, headed towards the general vicinity of Padul, the opposite direction to the landing field! Fortunately Padul was a good source of lift and gave Tim the necessary height and time to resume his flight plan and head to the safety of the bottom landing field.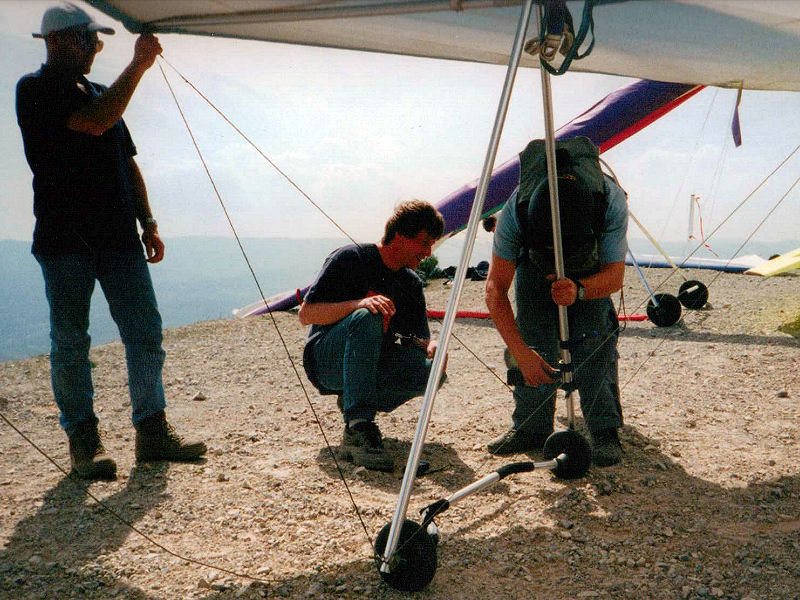 Rigging Gliders
Tony, Ozzie and Dave doing their final checks and attaching instruments to Dave's clubman before launching from Padul.
2 Apr 2001

Eventually my turn arose and I found myself on launch. Tony, my nose man dashed away when I instructed him to "release", and I was left with the glider on my shoulders and the freedom of the valley air in front of me. A deep breath and a hard run down the slope got the glider flying. I then pulled the bar in further, ran a couple of additional paces for additional airspeed before my feet left the ground and I was flying. As I entered the prone position the gravel slope slipped behind me and the ground suddenly fell away. There was now more than 1,000 feet between me and the ground, this was it, I was flying the Sierra Nevada.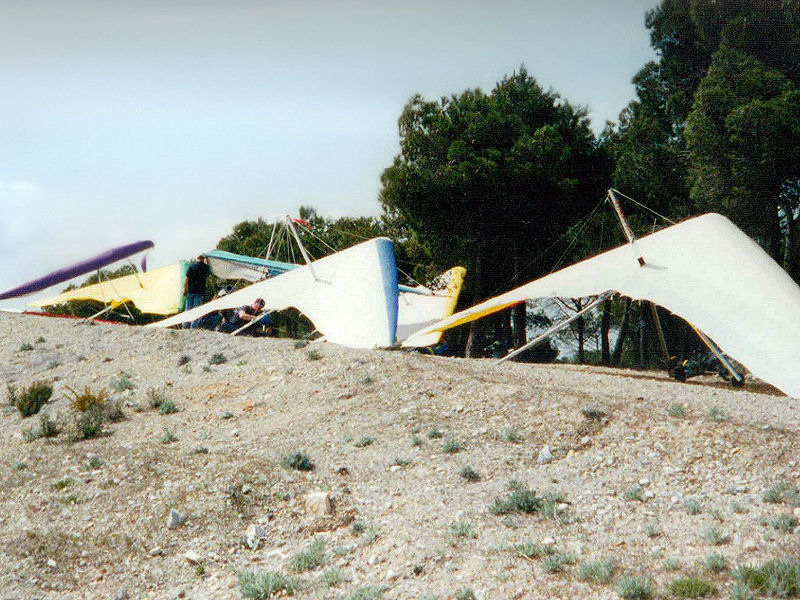 Rigged Gliders
All gliders rigged and ready for flight at Padul's south launch.
2 Apr 2001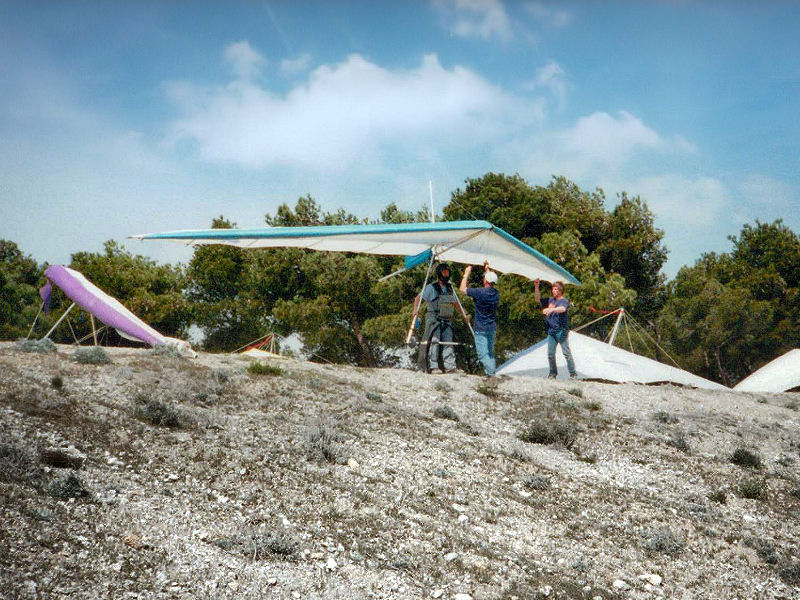 Ready to Launch
Dave ready to launch his Clubman hang glider from Padul's south launch.
2 Apr 2001

The glide was a simple top to bottom; however, it took the best part of 5-10 minutes to get down and land, well that's what it felt like! This was my first flight in 5 months and my first from such an impressive site, so I wasn't going to try anything ambitious! My landing wasn't perfect, having only just made it into the landing field (I didn't quite judge my glide very well), but I was down safely and raring to do it again! Simply Amazing!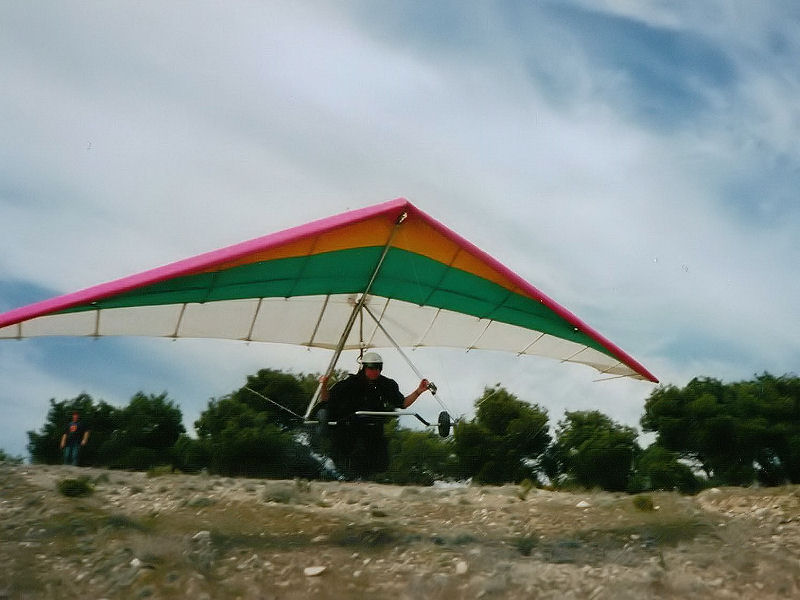 Dan Launches
Dan launches his Calypso hang glider from Padul's south launch.
2 Apr 2001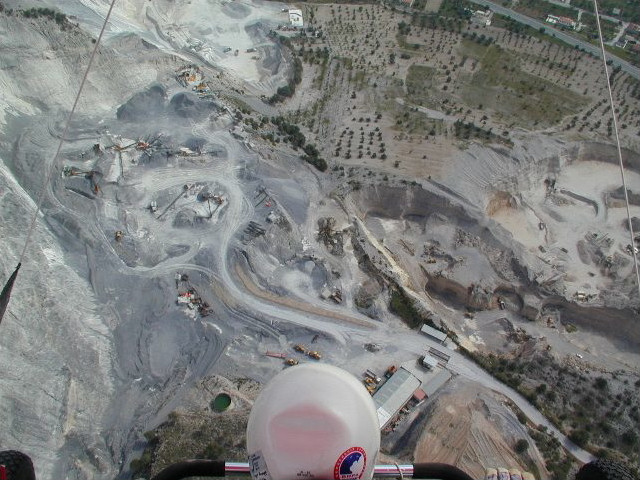 Looking Down on Padul's Quarry
Roger had the only digital camera (they were not very common in 2001) and mounts it to the keel of his glider getting this great shot looking directly down on the Quarry at the foot of Padul's south launch.
2 Apr 2001

Tuesday 3 April 2001
A slow start to the day meant that we were ready for flight by the afternoon (was it the beer from the night before?). The wind was still from a southerly direction, which meant it was the Padul south launch again. This time the launch site didn't seem so daunting and after we had rigged our gliders, each of us launched. All the flights with the exception of Roger's were simple top to bottoms. Roger decided that today was cross-country day, and as we watched him venture up the valley into the distance, we wondered if he were to return. He did and with a huge grin on his face!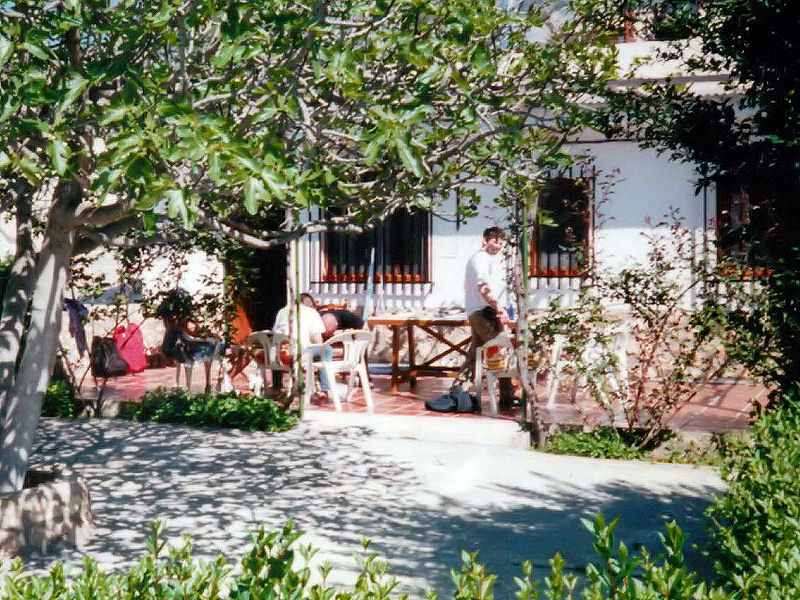 Chilling Out
As we wait for the day to warm up to get the thermals going, be all chill at the two lovely apartments John had arranged for the week.
3 Apr 2001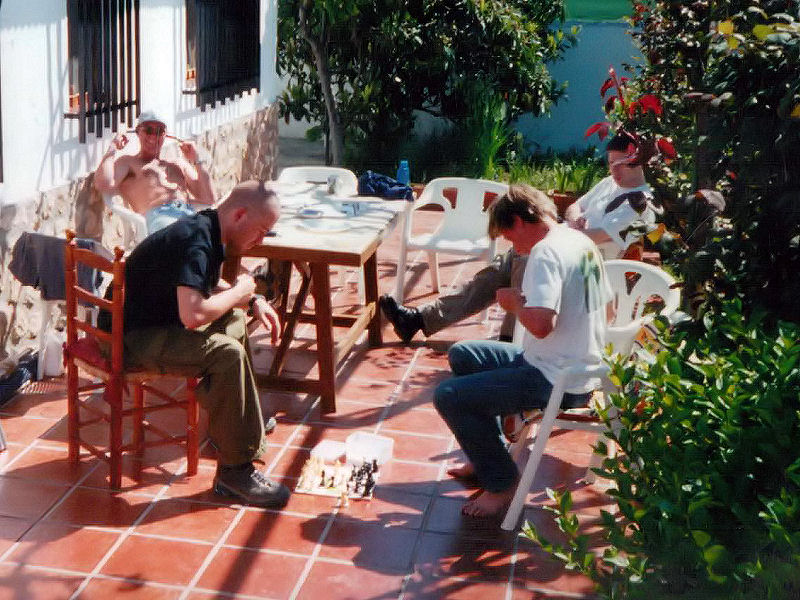 Chess Anyone
While waiting for the day to get going we chill out at the apartment in Padul and play a bit of chess in the April sunshine.
3 Apr 2001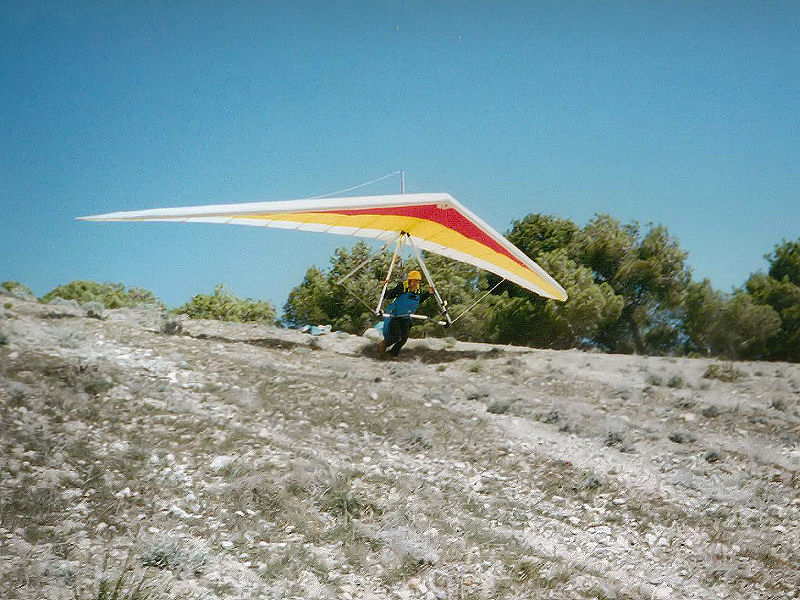 John Launching from Padul
Ozzie takes over launching the students which allowed John some time to enjoy flying the Sierra Nevada himself.
3 Apr 2001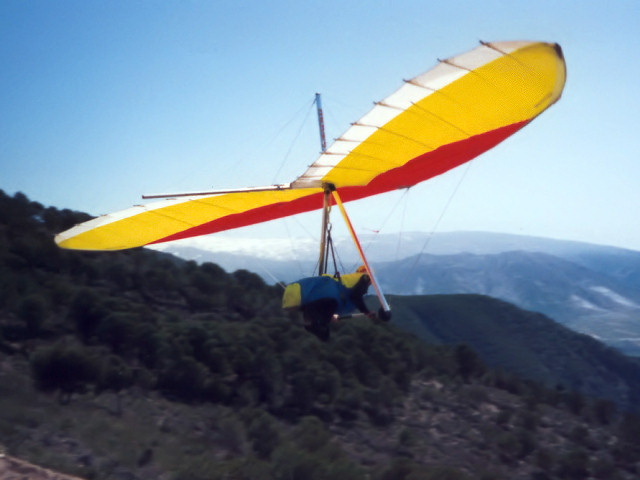 John Launches
John show us how it's done and launches from the Padul south launch.
3 Apr 2001

My first flight concluded with an interesting landing. During my final approach I flew over the sewage works that processed what ever came out of Padul. This happened to be a good thermic source (don't ask!), as it generated a 6 up sending me skyward. Unfortunately my inbuilt auto-pilot was set to land mode and I failed to exploit this lift; I was more concerned with getting down, so I turned in an attempt to leave the lift. A few moments later my vario squealed high pitched beeps and I was in 6 up again, the landing field was slowly getting smaller! This happened a few more times and prolonged my flight another 2 minutes or so before I landed. If I'd only stuck with it, who'd know where I'd ended up!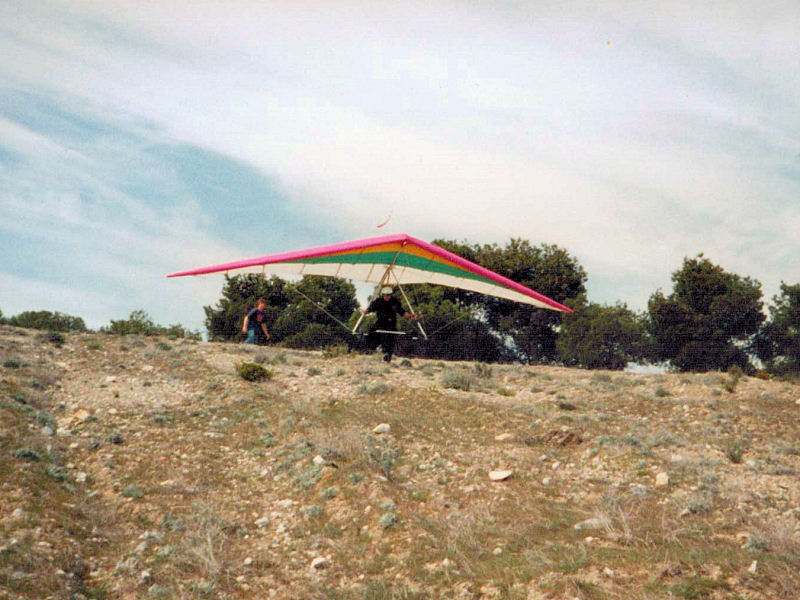 Dan Launching his Calypso
Dan launching his Calypso hang glider at Padul's south launch.
3 Apr 2001

The only noteworthy landing was Tony's when he demonstrated a hang glider stall/parachute landing - he had flared considerably too early, from a height of no less than 30 feet and was dumped onto the ground belly first with the elegance of a falling elephant. Fortunately no serious injury resulted; mainly bruised pride and a few cuts and scratches! Those that witnessed it were stunned with horror but very happy when Tony lifted himself from his bent A-frame and gave as a proud thumbs up accompanied by a large grin!
After packing the gliders, loading them up, and returning to take-off, the second flight of the day was executed. By the time of the third flight, the wind had shifted around to the north, ending Tuesday's flying! That evening each of us reminisced over beers about our flights before retreating to our beds.
Wednesday 4th April 2001
Wednesday started off as being a possible day for not flying. The wind had shifted to the North and it looked to be blown out (too windy!). John had decided that today might be a chance to look at Loja, a site about 40k away facing north. So, with the hope of flying, we once again loaded the vehicles and headed to Loja.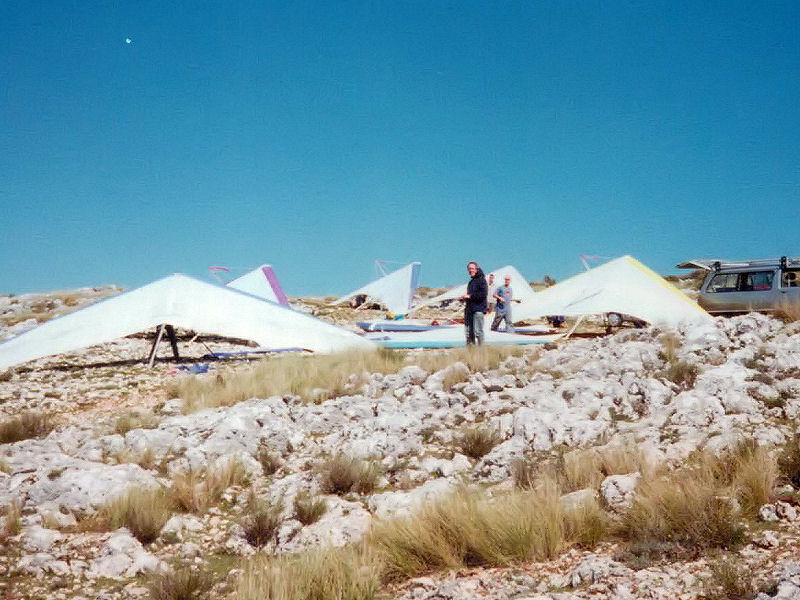 Loja Launch
Gliders being rigged at the Loja launch site.
4 Apr 2001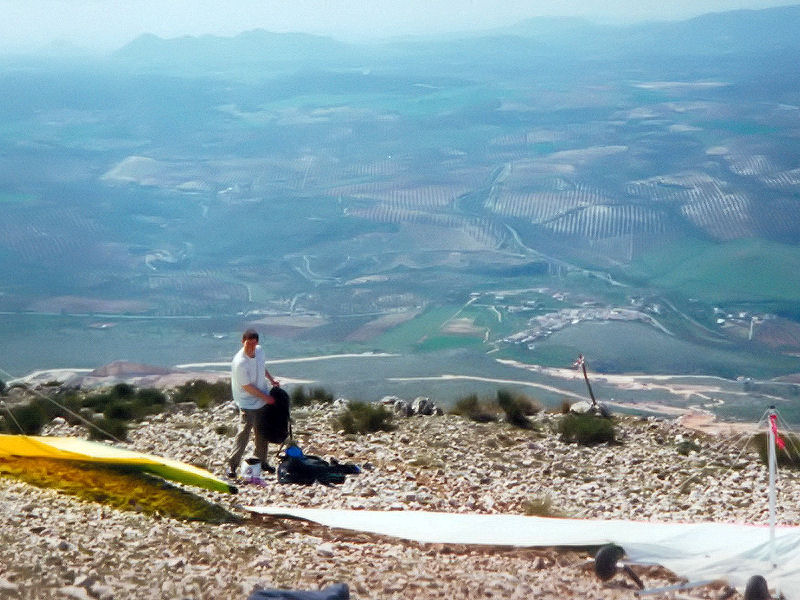 Loja Launch and Bottom Landing
A view from the Loja launch looking way down to the bottom landing field some 2,000 feet below.
4 Apr 2001

The Loja site was simply impressive. The landing field was about the length of 4 football pitches and the grass was maintained at a descent level courtesy of the local shepherds flock! There'd be no problems running on this stuff! So, with the landing field examined and the wind reducing somewhat, we headed to the take-off that was a staggering 2,000 feet higher up the mountain. It was starting to look like we'd be flying!
The takeoff site gave an impressive view of the valley below and spotting the landing field proved a little more difficult than usual. After a short debate, we all decided that this tiny little field in the far distance, 2,000 feet below was in fact the landing field we had inspected earlier. This was where we'd all be landing!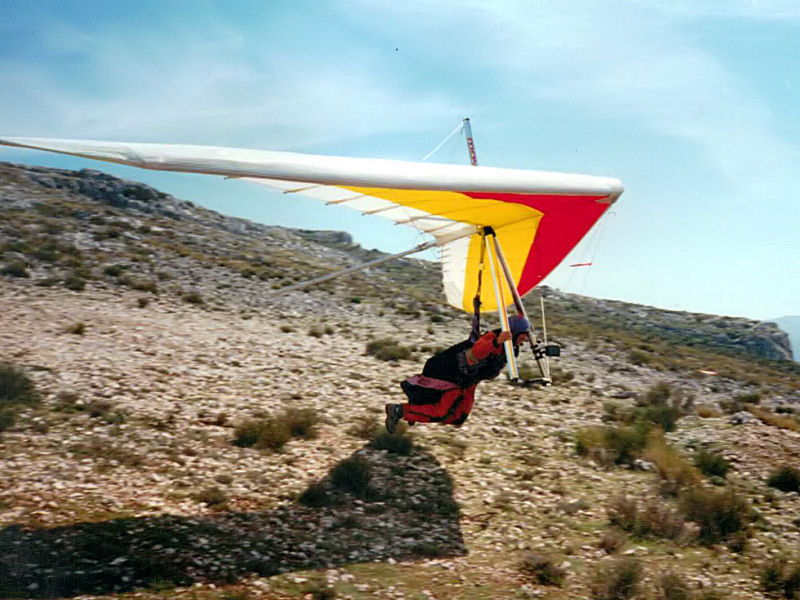 Ozzie Away
Ozzie launches from Loja; off on a little task that John B. has set him!
4 Apr 2001

Matt somehow volunteered to be wind dummy and launched first. After a few turns he was slowly headed downwards. Thinking this was going to be a simple top to bottom flight, no one was rushing to their gliders. However, to everyone's surprise, Matt had scratched his way back to take off height and began to maintain it. Matt's voice then echoed across the various radios tuned to his frequency, "Stop watching me and come JOIN me!". Cheers Matt, that was all the encouragement I needed and I was off. After I launched, I executed a few turns and a couple of random 360's before my vario squealed one of it's happy, I'm going up sounds. A bit more random turning (as I didn't really know what I was doing) put me on top of the stack (well, there were only 3 of us flying at this point - so I had my moment!), as I looked below observing all the hang gliders beneath me (had to get that in), I decided to spot the take-off site and after I concluded that these microscopic rectangular things beneath me were our cars, I realised that I was high. My vario's altimeter confirmed this by reading well over 1,000 feet above take off, or 3,000 feet above the landing field! Not bad for a novice and my highest flight to date!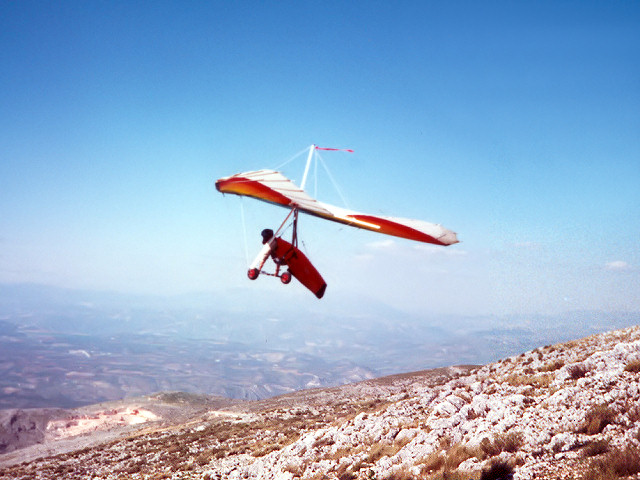 Matt Away
Matt is keen to get up and is one of the first to launch. Initial moments it looked like he was going down, but when he started climbing, everyone else returned to their gliders!
4 Apr 2001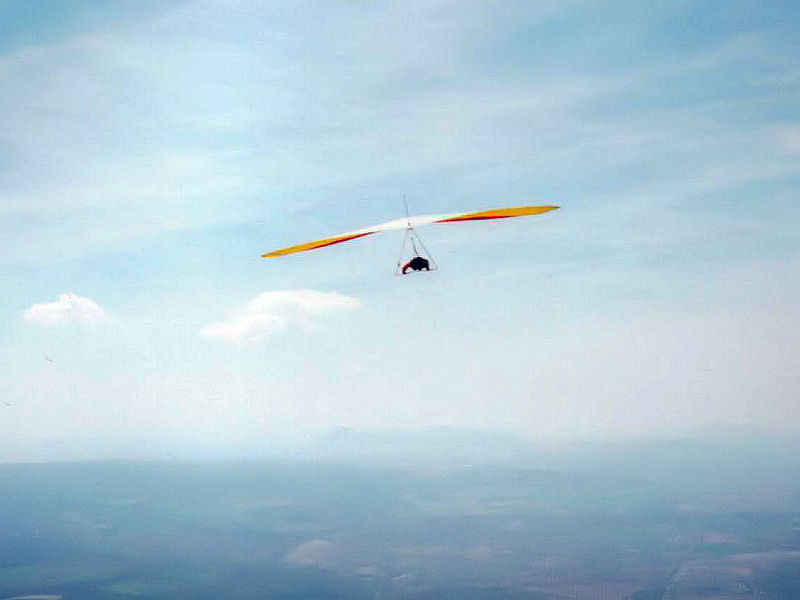 Ozzie Soaring
Ozzie gets established above Loja.
4 Apr 2001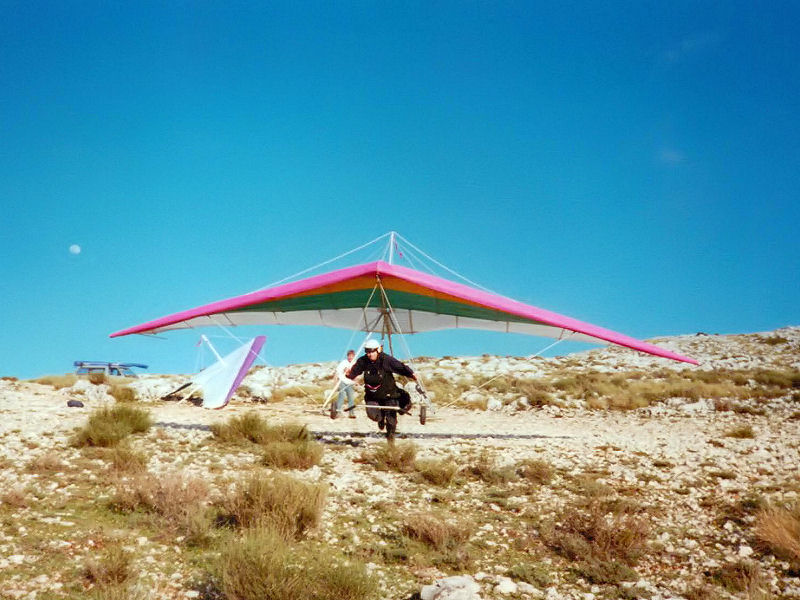 Dan Away
Dan starts his take-off run at Loja flying his Calypso glider for the first time off Loja.
4 Apr 2001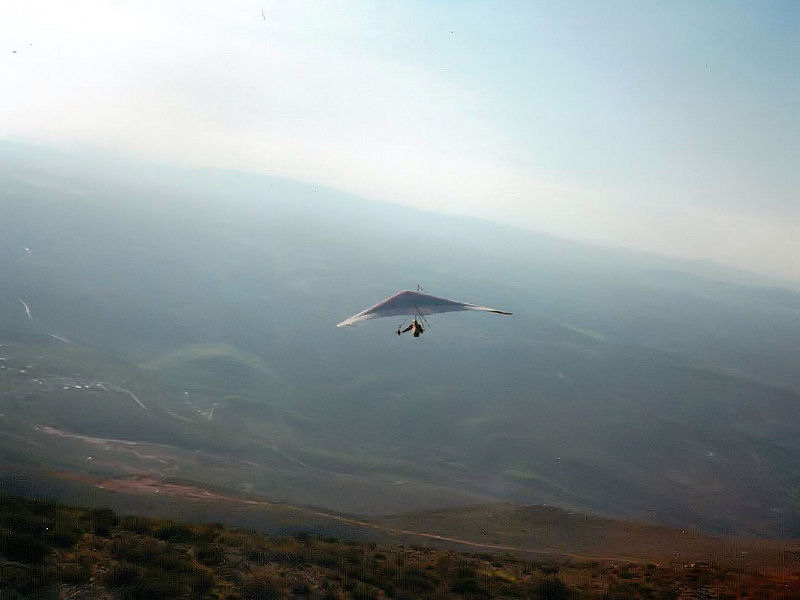 Flying Loja
Dan heads off over the skies of Loja on his Calypso hang glider.
4 Apr 2001

Wednesday ended with everyone having the flight of their life, with Matt probably having the best flight by staying up for almost two hours with a height gain of around 1,700 feet! However, his being air sick three times, probably put a bit of a downer on it, but I bet it was worth it!
Thursday 5th April 2001
Thursday saw us return to Loja; however conditions were not as good as Wednesday's as maintaining height was a bit more of a struggle. With this in mind, and our confidence in flying greatly increased, we began to play. I did some simple big turns (lots of roll), whereas others experimented with stall turns or something. The net result was squeals of excitement from fully grown men!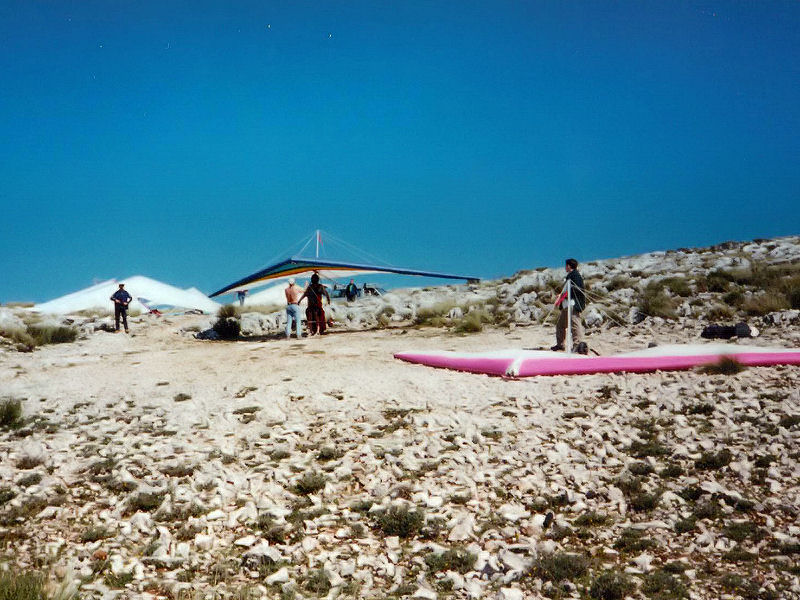 Loja Rigging
As the sun beats down at Loja, we rig our gliders ready for another day of flying.
5 Apr 2001

Tim, with probably the least airtime put us all to shame when he flew to the wispy bits at the bottom of the clouds. That to me was cloud base, although I was later told that it isn't quite!
Dave probably gave us the most to talk about when he landed somewhere other than the designated landing field (we basically had no idea where he was at first). During my flight I managed to spot him in a small field next to some houses/power lines/road/tree/rocks whatever obstacles you'd could possible imagine! For our later amusement, Dave had attached his digital video recorder to his helmet. This would give us all the opportunity to watch and laugh at his personal drama later that evening (the days before YouTube)!
Basically, Dave had ventured too far from the safety of the bottom landing field had headed towards the lee of the mountain. The net result was a lack of lift which slowly brought his glider increasingly closer to the ground. Unfortunately for Dave, this part of the mountain was heavily wooded leaving him with practically nowhere to land, that is except for someone's back garden (large field) where he somehow managed to get down in one piece!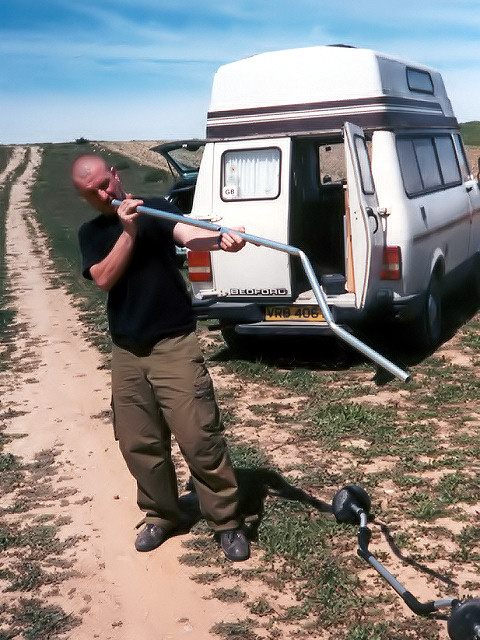 Bent Aluminium
After loosing Dave for a while he later returns after modifying his glider (bent up-rights) following an emergency landing!
5 Apr 2001

Unknown to the rest of us, Dave had attempted to radio for help! Unfortunately the 2,000 foot high lump of granite we'd been jumping off, absorbed his radio signal and his pleas went unheard (not that there was anything anyone could have done). Upon reviewing the video footage that evening, we all chuckled upon hearing Dave's frantic cry, "Hi guys, can anyone hear me. I'm in the s**t now, can anyone see where I can land?".
Friday 6 April 2001
Friday, and back to Loja again. The wind was even lighter, but a few local pilots had turned up, including a chap called Bobby who had moved to Spain from England! I could see why, the Spanish siesta, weather and endless opportunities for flying! However, the conditions today were not as promising as the previous days so I was thinking this was going to be a simple top to bottom. Our low experience and novice gliders didn't really permit a flight of massive height gain or distance, so the challenge was to see just how long we could stay up for!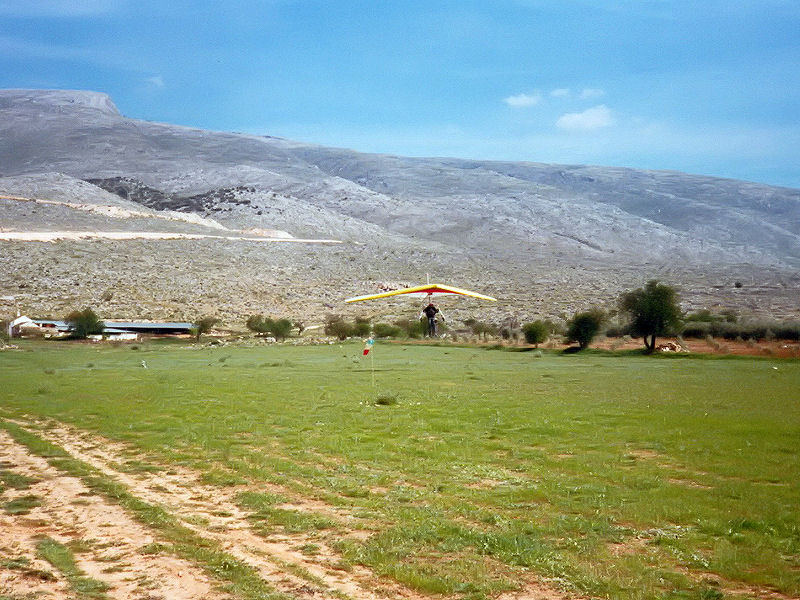 Bottom Landing Approach
Roger sets up for one of his perfect landings!
5 Apr 2001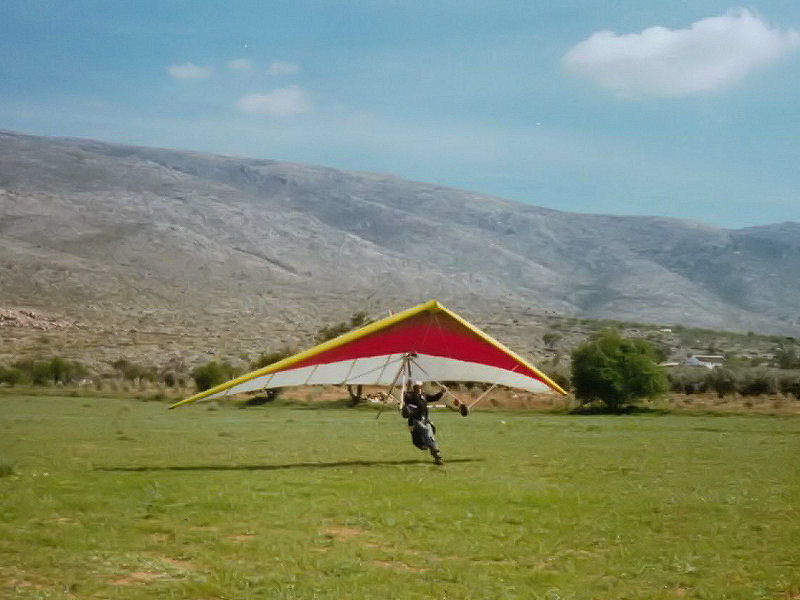 Flare and Touch Down
Another of Roger's perfect landings in Loja's bottom landing field.
5 Apr 2001

Unknown to the rest of us, Ozzie had given John a challenge (get to a certain peak, then cross the valley or something, far beyond my capabilities!). So, as the rest of us were preparing for launch and queuing in the launch area just like us Brits do, we were somewhat surprised to hear John's apologetic airborne, "Oops, cheeky take-off!", as he jumped the launch order and launched from the car park, swooping over the rest of us and onward into the clear sky.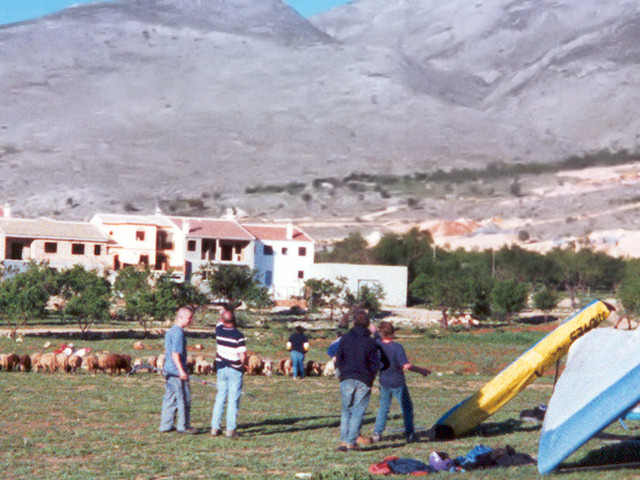 Loja Bottom Landing
Loja's bottom landing and a local shepherd brings his flock out to eat the grass and say hello to us as we pack away for the day.
6 Apr 2001

My flight lasted around 30 minutes as I scratched around for lift with minimal success. After I gave up, I decided upon a glide into the valley for a little explore. After visiting the local sites (bridge, road, tree, house... yawn!), I headed back to the landing area. I still had excessive height so I executed 2 large circular laps of the landing field, with Tony voicing obscenities at me from the ground below. As I headed downwind on my final turn, I realised that I was approaching the ground faster than anticipated. The immediate execution of a sharp turn (lots of roll) and straightening into wind landed me safely!
Mark had an interesting approach, mainly due to the small tree between him and the landing area which he had to literally step over to clear!
A few of us were lucky enough to get a second flight in. The thermals had switched off, but the wind had increased enough for some gentle ridge soaring. This was the perfect conclusion to the day, and to the week!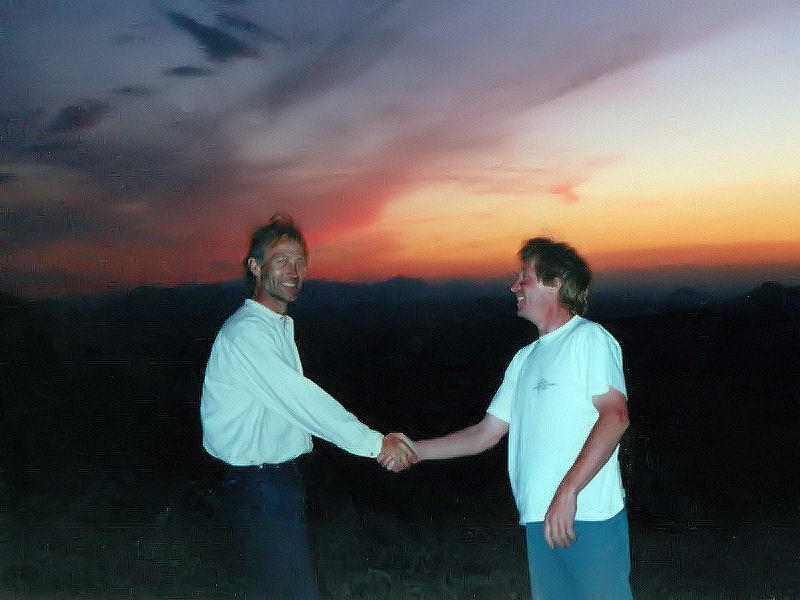 John and Ozzie
As the sunset at Loja, Ozzie congratulates John for a fantastic week of flying in the Sierra Nevada mountains in Spain.
6 Apr 2001

Saturday 7th April 2001
Saturday was to be our last day of flying, but the strong winds had returned and it was officially blown out! Still, to fly 5 days of a possible 6 was simply amazing (I'm lucky if I get 5 days in a year in the UK).
In preparation for our return to England, and for something to do as we weren't flying, we short packed our gliders and loaded them onto John's van. John would later drive back across Spain, cross the Bay of Biscay and the South of England whilst the rest of us simply flew back (what a guy!).
We concluded the day with a trip to the top of the Sierra Nevada Mountains. On arrival we engaged in a mass snowball fight, then, after exhausting ourselves, debated the feasibility of a top to bottom flight from the 11,000 ft mountain summit.
Our drive back down the mountain became a scouting trip for possible launch points for future flying holidays, and gave Ozzie and Tony the excuse to climb the biggest rock they could find! The day concluded in Granada where we wined and dined before heading to Malaga Airport for our return flight to England.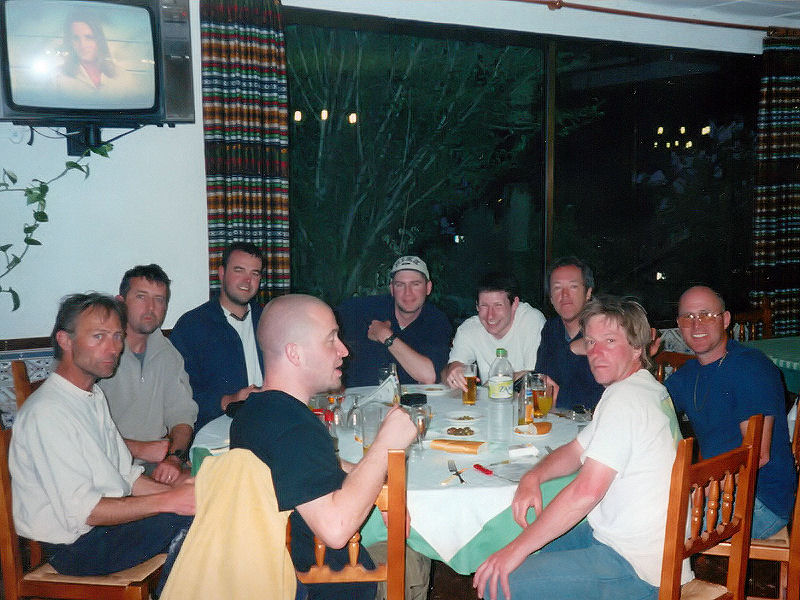 Team Photo
The perfect end to the day and to the week; team photo of John's flying trip to Spain. Starting from far left and going clockwise around the table: John, Matt, Mark, Dan, Tim, Roger, Tony, Ozzie and Dave.
6 Apr 2001

Thank You!
I can't finish this article without thanking all the guys for a fantastic week, the residents of Padul that all knew who we were after day one ('loca' being voiced by many of them!), and especially John Barratt for organising the whole thing and giving me the encouragement, support and guidance throughout my flying life.