Flying the Flatlands
This article was originally published in Windsock, the Southern Hang Gliding Club's newsletter. Later it was re-worked, updated, submitted and ultimately published in the BHPA's SkyWings October 2009 magazine.
Rewind to 2006. I'm in a field in Norfolk looking at a clever reassembly of what I'm told used to be a VW Beetle; it's a winch used for the tow training of hang glider pilots. I'm at Lejair doing my hang gliding tow endorsement. As a relative low-airtime, hill-rated Club Pilot I'm hoping with a winch endorsement I can gain more confidence and increase my opportunities to fly. With the support of Tony and Rona Webb and a bit of luck with the British summer, eight compulsory winches later I'm signed off and tow rated. On my return to the south coast I start to contemplate how I can make the most of these new skills.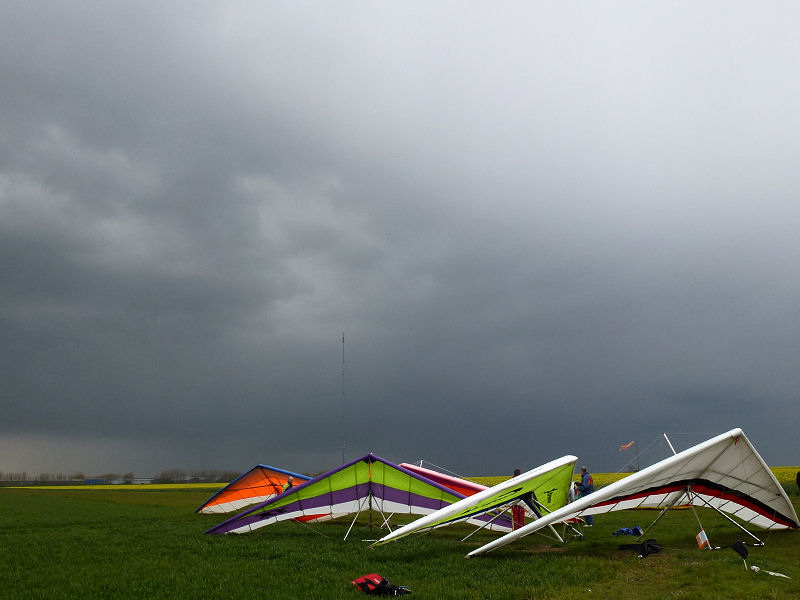 Forward wind to 2009. After a house move, job change and everything else life seems to throw at me (all conspiring against my flying), I decide to explore this winching again. The idea is to complement my not-so-regular hill flying at the Southern Hang Gliding Club with a local winch club; it's now just a matter of finding one (note to reader - the back pages of Skywings is a good start). One evening, after browsing several YouTube videos, I stumble across the Suffolk Coastal Floaters Hang Gliding Club (you must see their Corton video, it's simply excellent!). Several exchanges of e-mails later and I am encouraged to pop along one weekend with my glider and to give this winching a go again!
The Suffolk Coastal Floaters Hang Gliding Club, or SCFHGC for short, is predominantly a hang gliding static-winch club, with their main winch site located at Mendlesham airfield around 20 miles north of Ipswich. Mendlesham is a former World War II airfield, now with only a grass strip remaining, used today by a local microlight club and the SCFHGC.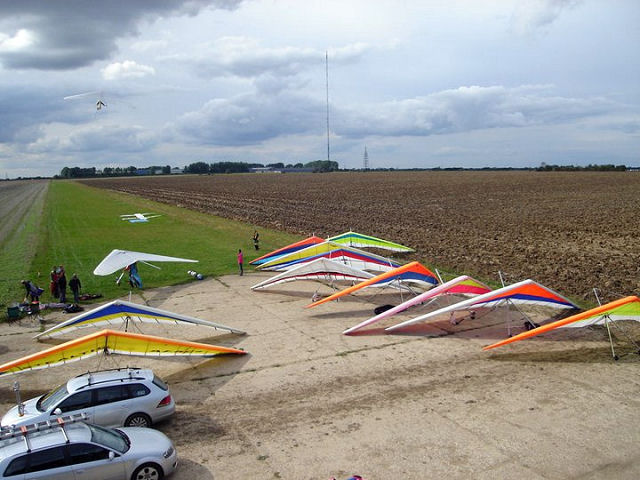 It's now early March and the forecast isn't looking suitable for local hill soaring (westerly winds aren't favourable at the Southern Club). I venture the 120 miles to Suffolk to finally give this winching a go again! On arrival I am made to feel very welcome by the club members. After the morning gossip there's a buzz of activity as everyone prepares the airfield for the day. This activity really gives this club a 'club feel'. It's also the perfect time to be fully briefed on what to expect, how the club operates and to make some new friends!
I confess to it being over two years since I last winched, and everyone is very supportive and keen to get me going again! Before I know it I am positioned at the end of the runway and attached to the winch cable. I instruct for the slack to be taken up, and when I feel the gentle tug of the winch cable I call 'Hold'. The pull of the cable eases and all I feel is its weight.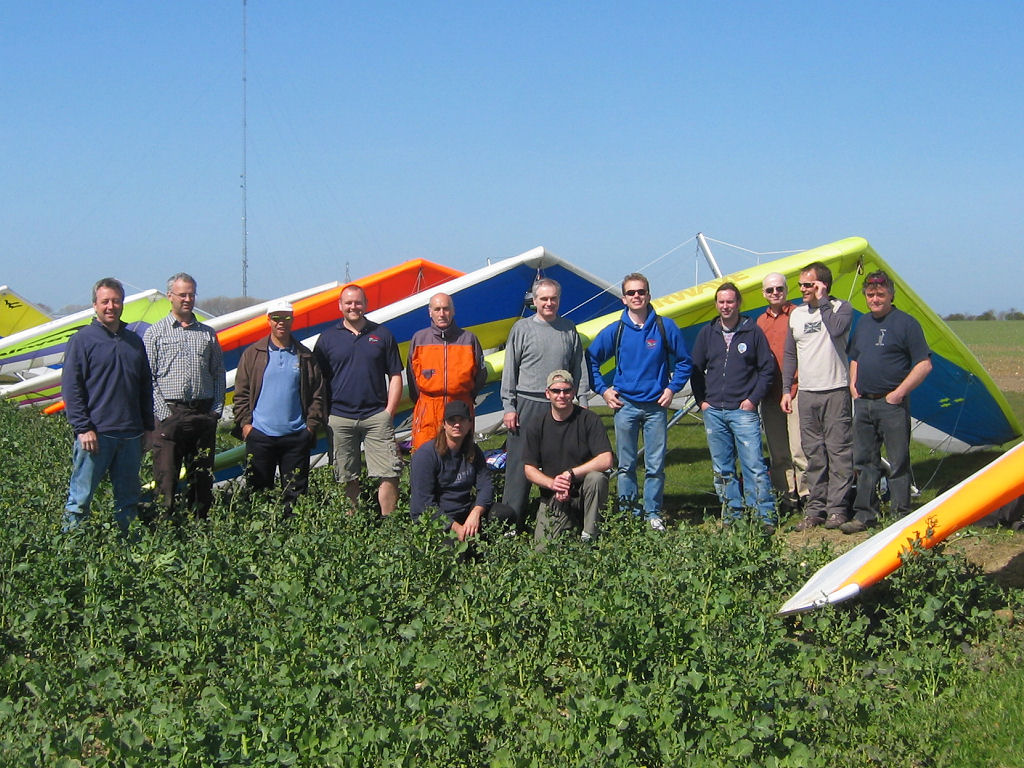 I lift my glider and look down the runway. My nerves are high and I can feel my own excitement building! There's absolutely no pressure for me to go; I'm told to take my time and go when I'm ready. The wind is blowing lightly down the runway, perfect. I'm ready! I'd been told to expect to run a bit before I'd get airborne - not much different from hill launching I think! I feel comfortable and instruct "All out!" (that's 'Put your foot on the gas!' for the winch operator). I feel the cable tension hauling me forwards. My legs quickly respond and accelerate until I'm simply lifted from the ground.
The SCFHGC use a two-point chest release system for winching, fortunately the very same system used at Lejair. Shortly after launch the winch operator backs off the line tension, allowing me to release the top line and continue towing on the remaining line. Unfortunately, on my first tow I release both lines at the same time - a double release! I watch with disappointment as the winch cable completely separates and starts parachuting to the ground.
Damn, not a good start! I don't have too long to contemplate what went wrong as it's time to flare and land - at least that went to plan! Shortly afterwards, after carrying my glider back to launch, with the support of everyone there I am bumped to the front of the launch queue and set up for a second attempt. Apparently double releases don't count!
My second launch went exactly to plan. On a good day tows to 1,000ft QFE or more are achievable, but not today. Due to the light winds (and my inexperience) I max at around 600ft, and after looking down at the winch I think it prudent to get off the cable (the winch operators don't like it if you drop the cable on their heads!).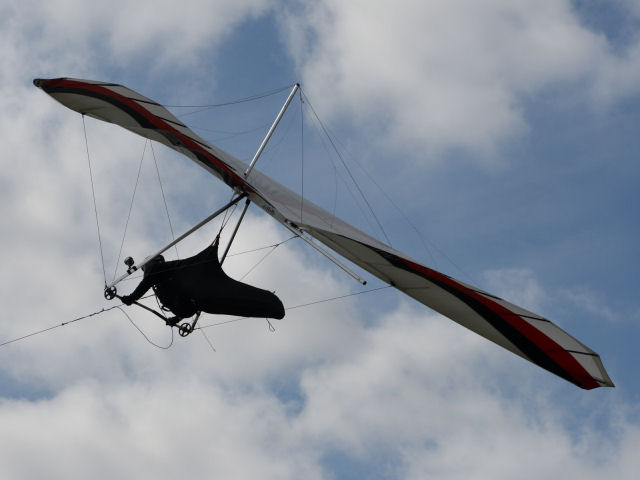 After release the real fun starts; the battle against gravity! Never before have I concentrated so much on my vario and the feel of my glider! I'm surprised how liberating this winching is. Gone are the crowds of my local sites, and the lack of significant geography compels me to explore every little bit of air, trying to sniff out something going in the opposite direction to where I feel I'm going.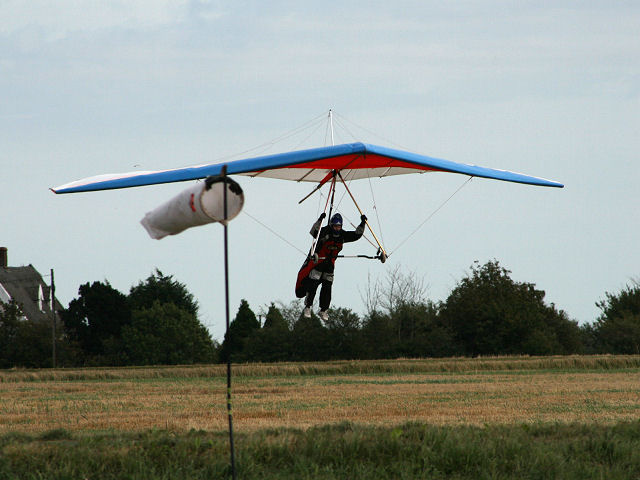 It turns out this is a great way to build up confidence and refine some rusty skills, however it isn't long before it's time to land. That's the next surprise; you land where you start, ready to do it over again! Upon landing you are greeted by plenty of enthusiastic coaches and pilots who are very keen to give you some invaluable tips ready for the next flight! This really is a great way to improve your flying skills!
This activity set a continuing trend for 2009: trips to Suffolk when my commitments permitted me to. In subsequent visits I would experience both the club's winching sites (Mendlesham and Metfield), a weak-link break followed by a lovely thermic climb, a helmet queue, a close inspection of Mendlesham's 1,000ft radio mast, the things people do to land on the spot, the local pubs, camping on the runway and the immense support and friendship of the Suffolk Club members! It can't get better than this... or can it?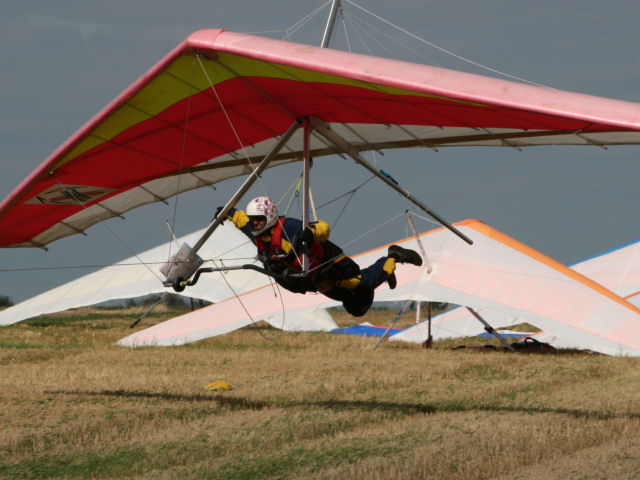 This isn't the end of my story. Roll on July and I'm back at Mendlesham again. The weather was perfect; plentiful cumulus clouds and the wind blowing straight down the runway. Oddly, only a select few had come to the winching field today. Between us we readied the field and commenced winching. Keith, the club coach for the day, insisted I take his GPS and air map. He fully briefed me on their use and all the airspace restrictions east (downwind) of the field. There aren't many - just avoid Sizewell nuclear power station! Looking back at this now it must have been some coaching intuition at work, but at the time I was very nervous and quite reluctant about venturing away from the familiarity of the winch field!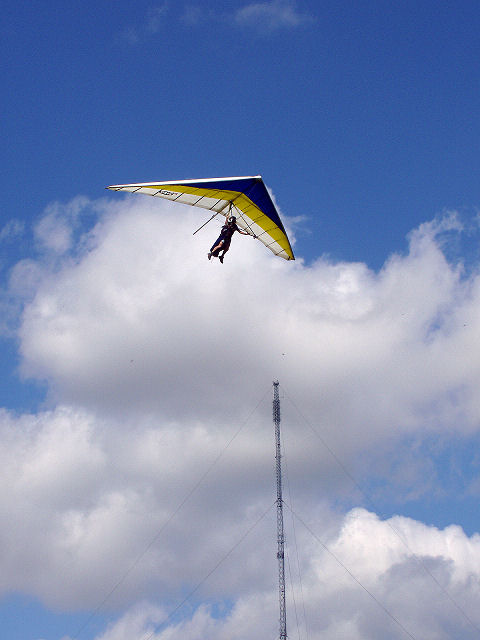 By my seventh tow of the day, with everyone experiencing some extended flights, something magical happened! After releasing prematurely at 700ft my vario continued its high-pitched squeaking; it had never done that before so I started to 360. Several 360s later it was still squeaking and the familiar ground features of Mendlesham were getting smaller and more distant as I climbed and drifted downwind. This was simply amazing - I was going cross country, the first of my flying career!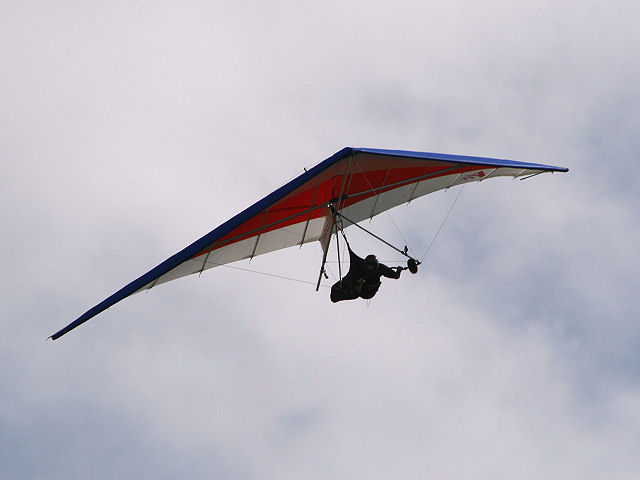 I could feel a huge grin on my now cooling face - it starts getting cooler the higher you go! Looking ahead I can see the Suffolk coastline and the white nipple of Sizewell nuclear power station in the distance. Beneath me the patchwork Suffolk countryside extends in every direction, and all I can think of is, 'Where am I going to land?'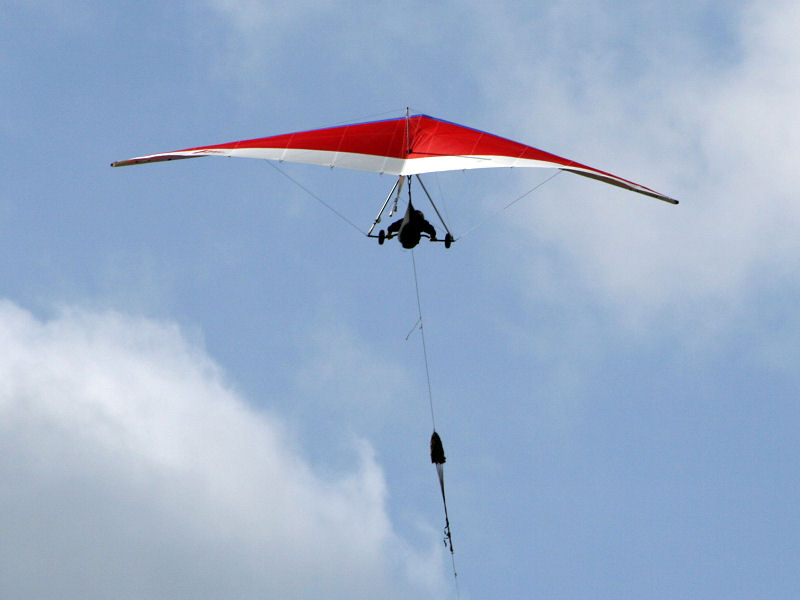 Sadly I became fixated on this, and after a short 7km and a very cautious landing approach I safely touched down in a random field somewhere in the unfamiliar Suffolk countryside. After a quick study of the air map I realised I was next to the A1120 just east of Debenham. Keith's GPS provided a far more accurate position, and when relayed back to Mendlesham via mobile phone a retrieve driver was dispatched to recover me. How did people do this before GPS and mobile phones? A short while later I was welcomed back to Mendlesham where a nice cup of tea was waiting - thanks Mike!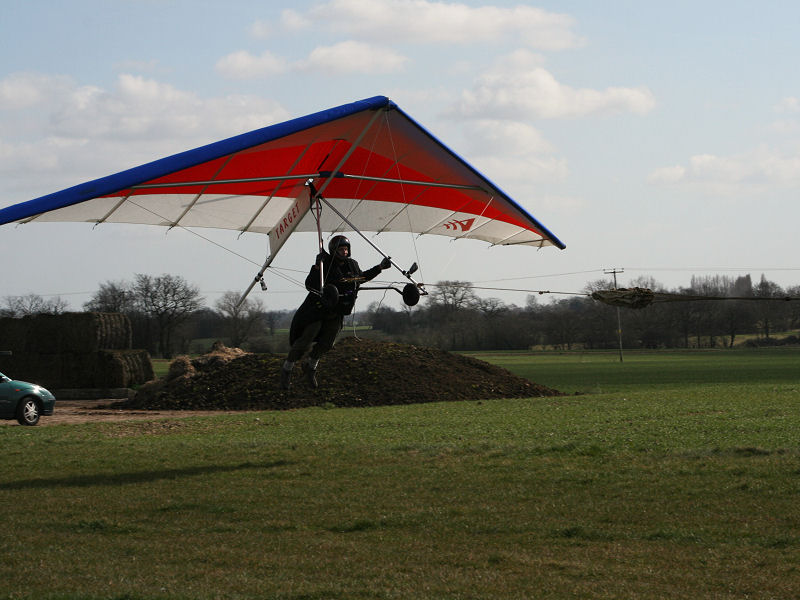 2009 has now become my most memorable year of flying to date. It's not just because of the amazing flying, but also because of all the people that make the Suffolk Club what it is today: something special! As a relatively low airtime pilot that doesn't get opportunities to fly as I often as I'd like, the SCFHGC has been simply wonderful. I would highly recommend the club to any hang glider pilot, novice or advanced. Why not pop along and see what it's all about. Or check out their website at www.scfhgc.org. Who would believe you can do all this in the East Anglian flatlands!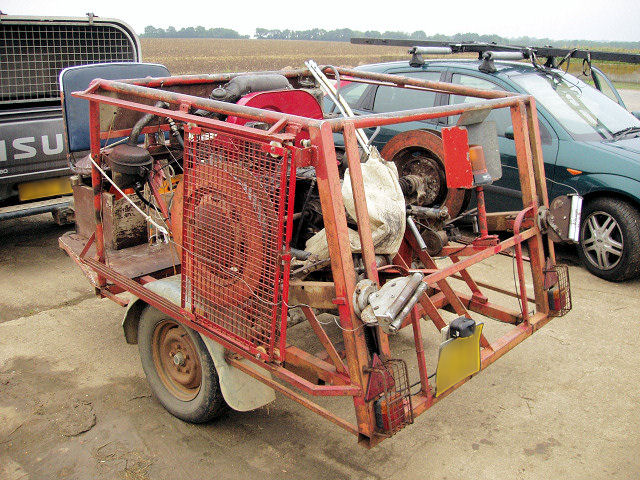 How to go winching
There are two methods of getting a winch endorsement. A number of schools offer this (I did so with Lejair), however, if you are already CP Hill rated and current (10 hours or more), the Suffolk Club can convert you. Chest release systems are a bit pricey new - mine was sourced from Simon Murphy (www.turfhouse.com), but there's always a chance of getting one second-hand! Oh, you'll also need a harness with tabs for connecting the release system;
<!-main-content-->