Lanzarote 2018
4 February 2018 - Departure Day
I had stressed in the weeks leading to departure date, how heavy was my glider? Would I have problems getting it on the aircraft? Would it be damaged in transit? Had I forgotten something? How was I going to get all my kit to check-in?
My first problem was resolved when I obtained a trolley, placed my hold luggage and hand luggage on it and balanced my glider along the top, with one end of the glider rested on my shoulder. I quickly made my way up the escalator (there was no way I was going up in the lift with all this kit), where I found Rod who had kindly come out to assist me. As I made my way towards check-in, various people joked about what I was carrying, still stressed, I simply smiled at them and continued on my way. With large queues of people going about their business, Rod's assistance was very much appreciated as he directed me to the oversize baggage area. Rod patiently waited with my gear while I obtained my luggage stickers.
The glider had to be weighed, and knowing EasyJet's policy of 32kg maximum per item, I was concerned. Somehow, my glider didn't quite fit on the scale with one end rested on the conveyor belt that pulled the luggage away. When the final weight of 27kg was recorded, I began to relax but was also a little surprised as Wills Wing state the glider weighs 30.8kg; that's doesn't include the bag and all my additional padding and packaging! Rod saw the look of surprise on my face and subtlety gestured for me to keep a straight face! My hang glider was then removed and my hold luggage was then weighed (clothes, harness, helmet etc). That came in at 20kg then disappeared up the conveyor belt and into the inner workings of the airport.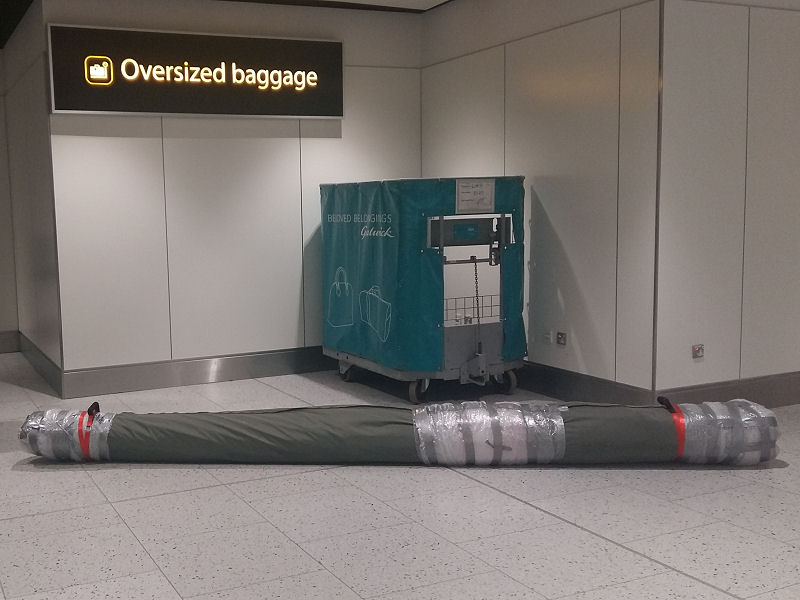 For security reasons, the hang glider had to be x-rayed so I was escorted across the terminal with my glider into a secure area where an industrial sized x-ray machine resided. My glider was fed into one end of the x-ray machine and scanned. Once completed, a 'Secure' sticker was attached to it ready for the baggage handlers to collect it. As they arrived and saw my glider, one of them proclaimed, "Not another one!". This at least gave me confidence that all the gliders were headed for the same destination!
My mouth was now incredibly dry, so after Rod and I had cleared security and met the rest of the team; John, Ben, Mike and Rod. I dragged everyone to Starbucks where I bought coffees for all and we began to introduce ourselves. At our boarding gate I caught a final glimpse of my glider protruding out of a trolley at the rear of the EasyJet Airbus. All the other gliders were in a trolley near the nose of the aircraft.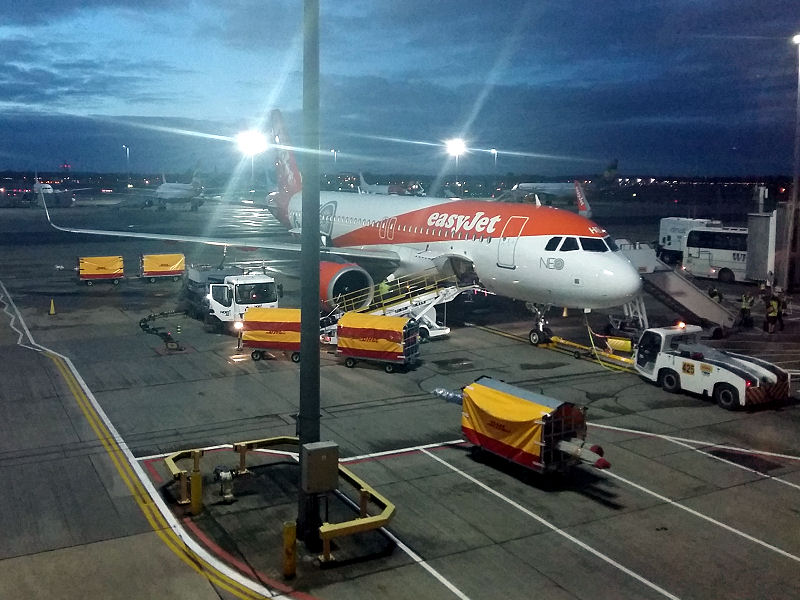 We were soon herded onto our aircraft where I found my seat, stowed my hand luggage and settled down for the flight. I wished it was uneventful, but sadly our flight didn't depart on time. I had a deep suspicion it may have had something to do with our gliders, but when additional passengers arrived, I assumed it had been delayed for them. Another 40 minutes passed and still no departure. At the front of the cabin I observed stressed ground-staff talking to the cabin crew, and I immediately suspected what was about to be announced. Sure enough, the calm professional voice of the captain filled the cabin.
"We apologise for the delay. We are having some difficulties loading our baggage. Some of our passengers have brought sailing equipment with them and we have to re-pack the aircraft to ensure all the baggage can be safely stowed. We must ensure that all luggage is securely loaded for safety reasons. For those passengers with the sailing equipment, please be assured, we are confident that we can get everything on".
I then heard quiet mutters from passengers nearby (but loud enough for others to hear), moaning about the sailors; I couldn't resist the opportunity to correct one of them and stated that it was hang gliders. We then had quite a jovial discussion about what we were doing (ironically, a week later, I would meet the same gentlemen on our return flight). Eventually the cabin doors were closed and after 90 minutes of delay, we took-off headed for Lanzarote!
The flight was uneventful and despite our delay, we had made up some time when we arrived at Arrecife airport. As I stepped off the plane, I was a little surprised to find the outside air temperature comparable to a typical spring day back in the UK.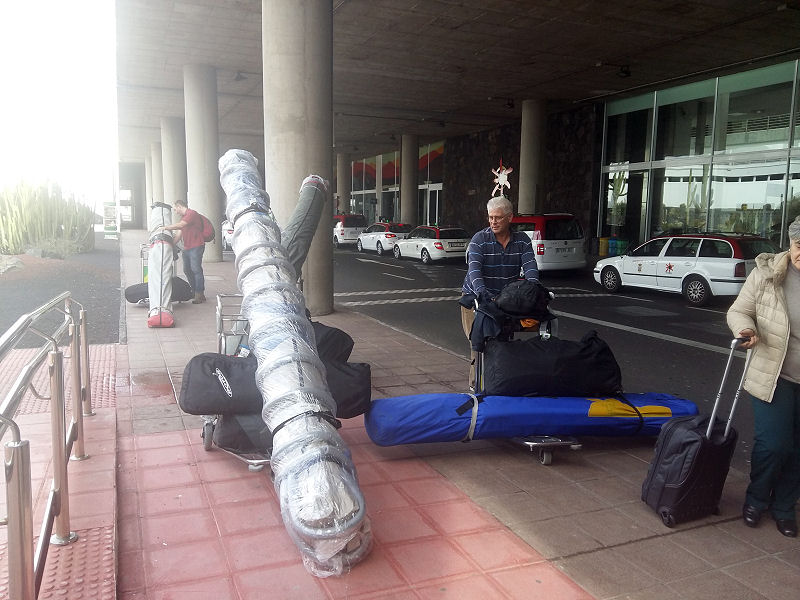 Collecting our bags and gliders was a little problematic for myself and Mike as we inadvertently exited arrivals in our mission to sort our hire car without first collecting our kit (stupid!). Fortunately Rod and the others had recovered our gear before I successfully re-negotiated with security to let us back through. Despite losing one of the handles I had attached to my glider, all our gliders appeared to have arrived without visible damage!
After we lugged our gear out of the terminal and up to the top floor of the car park, we located our hire cars and loaded them. This was really my first opportunity to see the Lanzarote landscape for this first time and I quickly realised why some people compare it to the surface of the moon!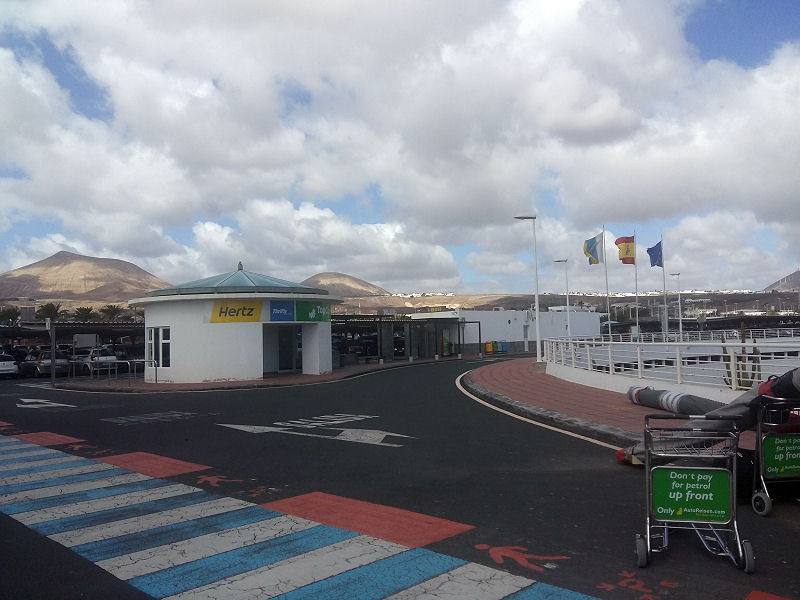 Our villa wasn't available until 4.30pm, so with 3 hours to kill, we headed into the local town of Playa Honda for basic supplies and coffee. While we sipped our coffee, Steve, who had arrived earlier having flown in from Bristol, called and informed us that the villa was ready! We were keen to unpack and check our gliders, so raced off on the short drive to Tahiche.
After a quick look around the villa, we each worked on re-building our gliders. In my feeble attempt to reduce the weight of my glider for the outward journey, I had not only short packed it, but I had also removed the side-wires, knuckle joints and anything else that I could stash into my other luggage. The result of which meant it took considerably longer for me to re-assemble my glider and by the time I was nearing completion, the heavens opened and gave me and my glider a proper soaking!
That evening we dined at a local working man's club just up the road from the villa after which, we retreated for the evening ready for a fresh start for Monday.
5 February 2018 - Famara Cliff Cave
It was a slow start to Monday. I was one of the first up as I was eager to complete the assembly of my glider having given up the evening before due to the rain and diminished light. My glider was very damp having sat in small puddles that had formed in the glider bag over night. I re-attached the side-wires, re-inserted the sprog transverse battens then rigged the glider on the A-frame to give it a thorough inspection and to allow it to dry off. To my relief, the glider looked good and with the wind, it wasn't going to be long before it was dry!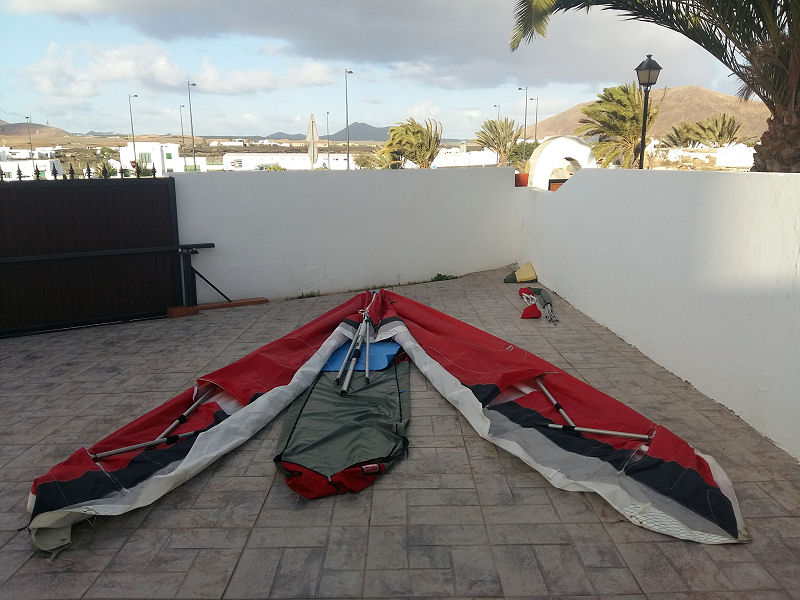 The evening before we had all scoured the Internet for favourable weather forecasts; they had all eluded to it being blown out. One by one, the guys emerged and stepped into the villa's forecourt and after feeling the wind, their eagerness to get going ebbed away.
We eventually decided to load the cars and to explore Famara. Wednesday's forecast, although strong, remotely hinted of an early opportunity to fly, so we'd put today's time to good use and looked at the bottom landings and lower take-offs.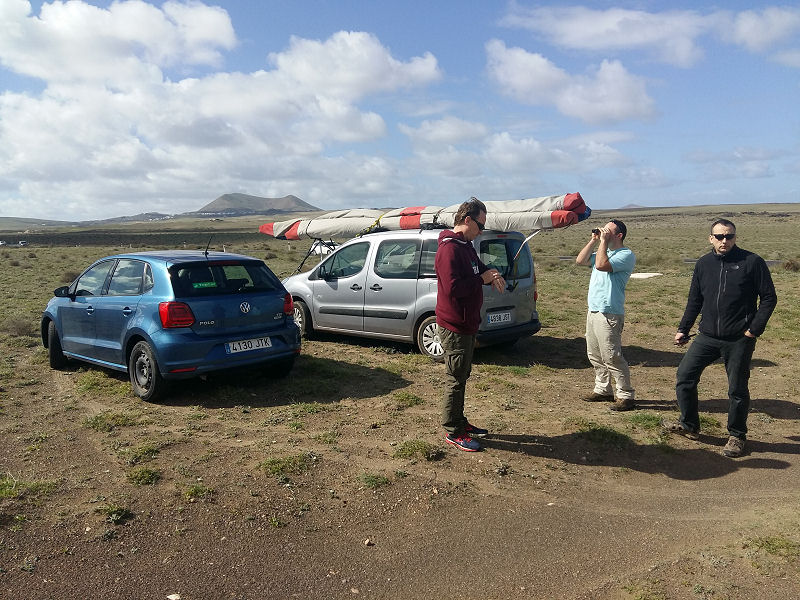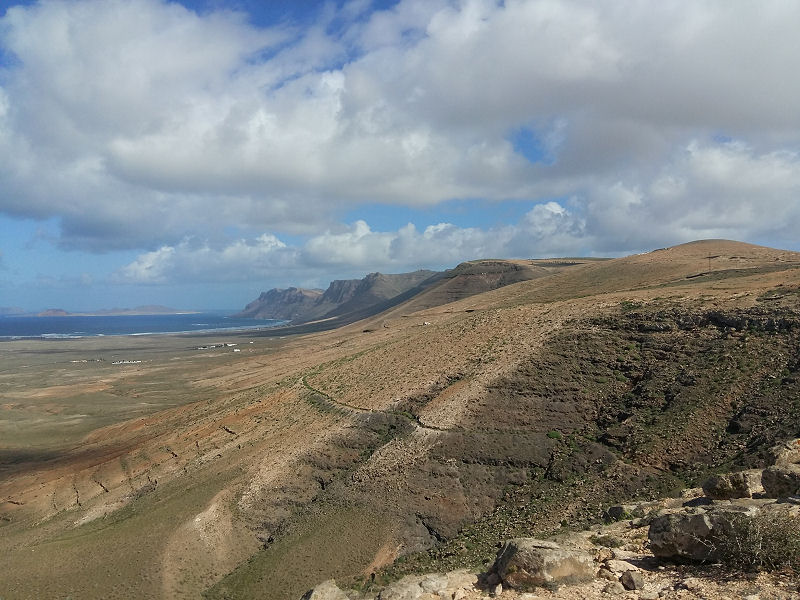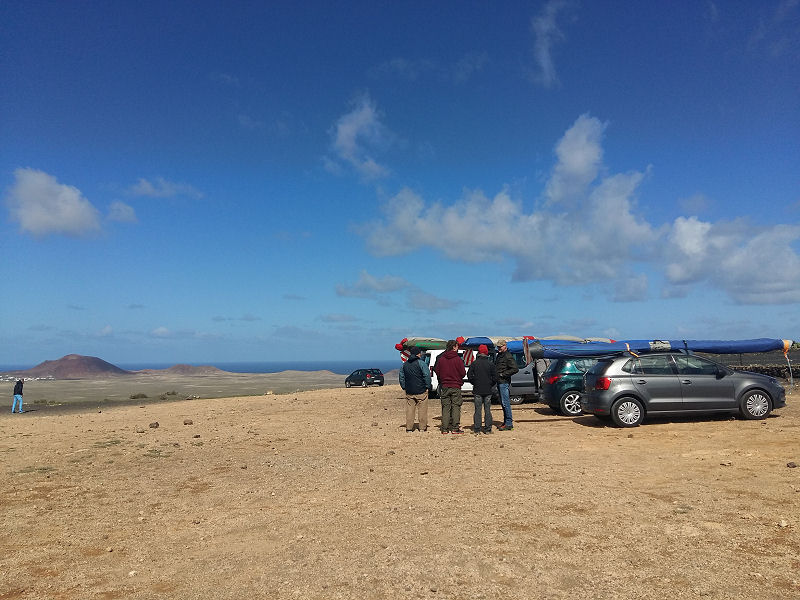 Steve had been to Lanzarote before and had flown the Famara cliffs. On one flight he had spotted a cave partially down the cliffs so suggested we explore it. It was now certain that flying today was off the agenda and with nothing better to do, we headed to the top of the cliffs, scrambled down a small steep path cut into the rock and discovered the cave. The opening of the cave framed a beautiful view of the sunny and windy Lanzarote landscape below.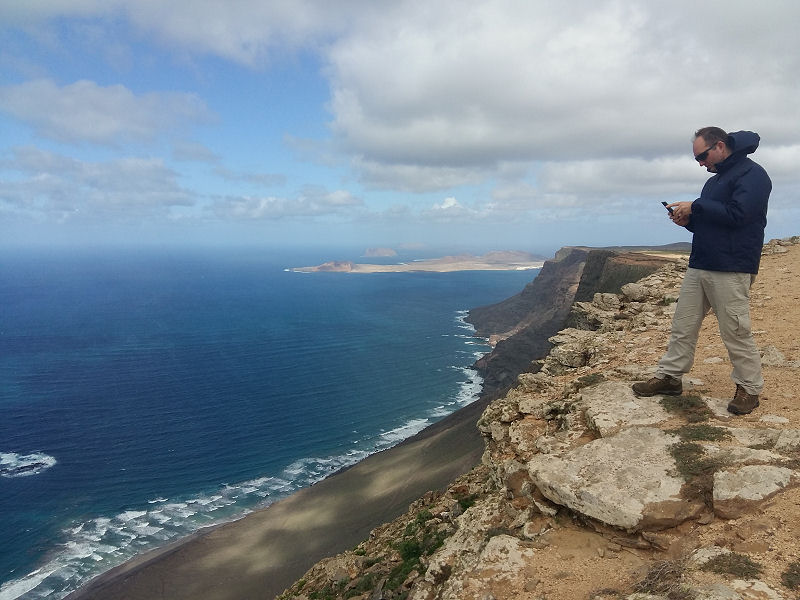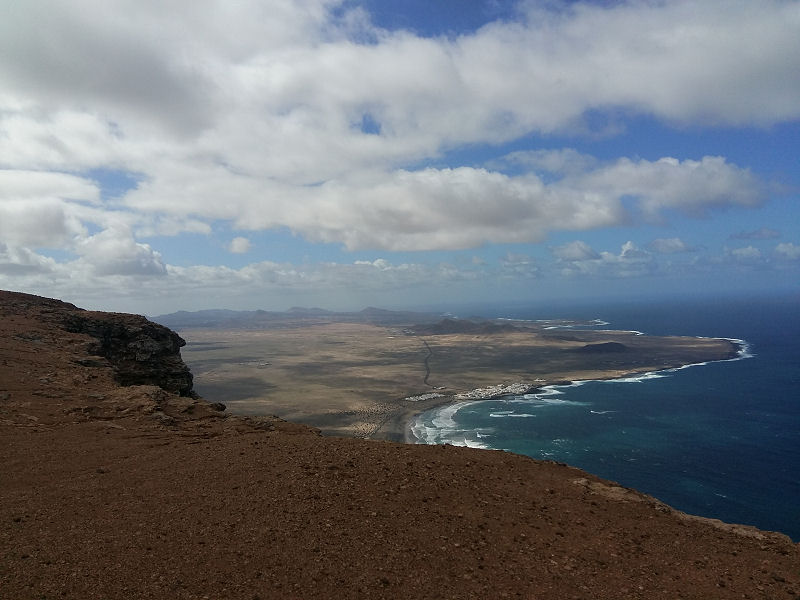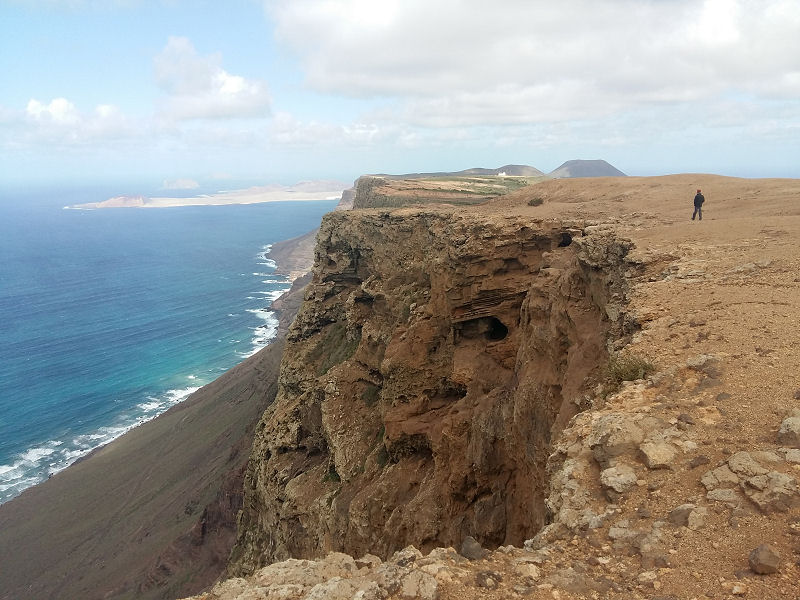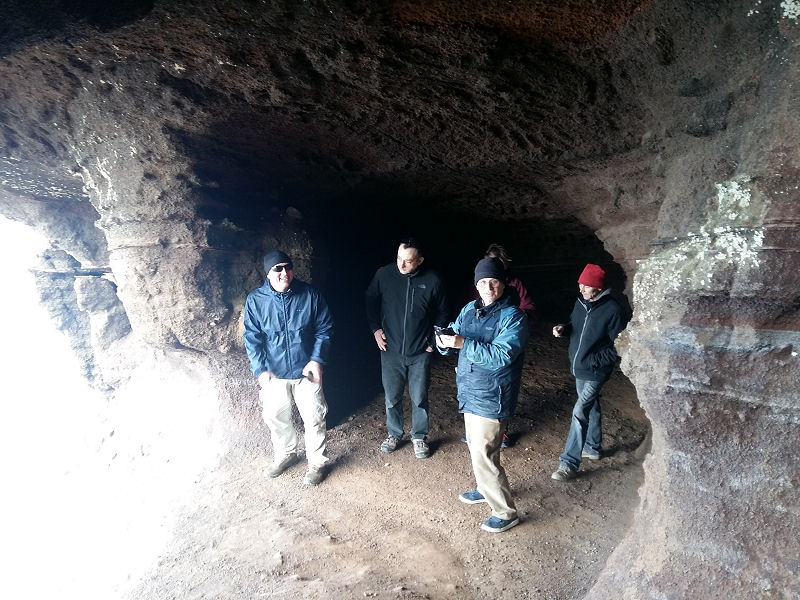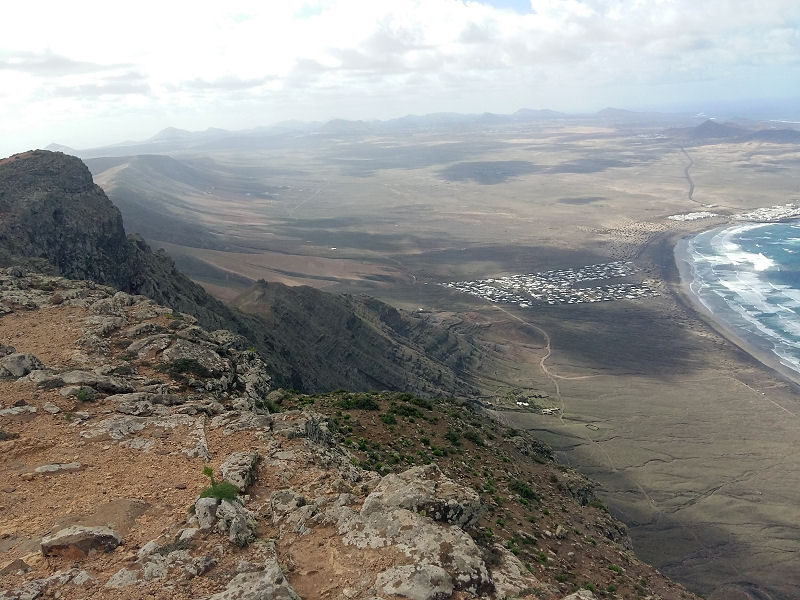 After we had scrambled back up the cliff we headed to Teguise where we stopped for lunch before returning to our villa.
6 February 2018 - Karting Day
On Tuesday morning we again awoke to yet another windy Lanzarote landscape. Strong northerly winds had been forecast, so we headed to El Cuchillo for a look. We had assumed that it wasn't flyable, but to our surprise, we found gliders rigged and others being rigged. There wasn't any notable wind either, just a gentle breeze coming from the south. This was of course a false sense of the true conditions as we were in the lee of the crater! As I ventured up the gentle rocky slope to the north facing edge of the El Cuchillo crater, I was blasted with an intense flow of air! Rod measured the wind consistently blowing at 35 mph+ with a peak wind of 48 mph! Any aspiration I personally had of flying had now blown away!
We waited around to watch the other hang gliders, they each in turn made their way towards launch, assisted with plenty of ground support, but all wisely elected not to launch after failing to get their gliders stable.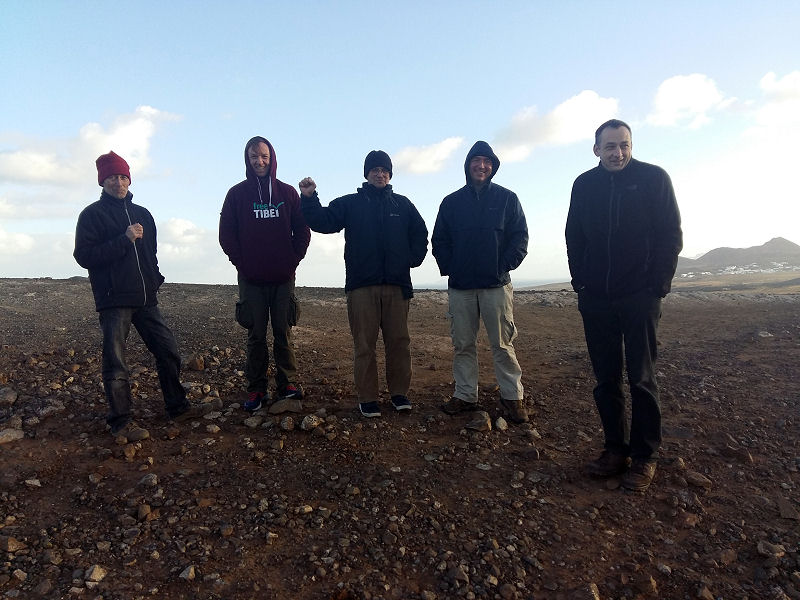 With the day again blown out, we decided to head to the Gran Karting Kart track near Tías. There we enjoyed several competitive rounds of Karting then headed off to explore the Mirador bottom landing field. On the way back, Mike and I headed up to look at Mala before returning to our villa.
7 February 2018 - Flying Famara
The night before Steve had analysed all the available forecasts and had noticed a little kink in the isobars that hinted of a reduction in wind strength and a possible window to fly Famara. It required an early launch and for us to be back on the ground no later than 11am as weather was inbound. We'd only truly know if the wind had dropped enough when we arrived at launch and with the forecast for the rest of the week still looking strong, everyone was motivated for the early start.
Steve and I were first to arrive at the first of the launch sites while the sun was still emerging from the horizon. As we looked southward towards the adjacent launch site, we could see other pilots had also arrived early and had rigged their gliders there. We decided to join them as this launch was better orientated for the north-westerly breeze. My glider, still on the roof of another vehicle, had not yet arrived, so I assisted Steve.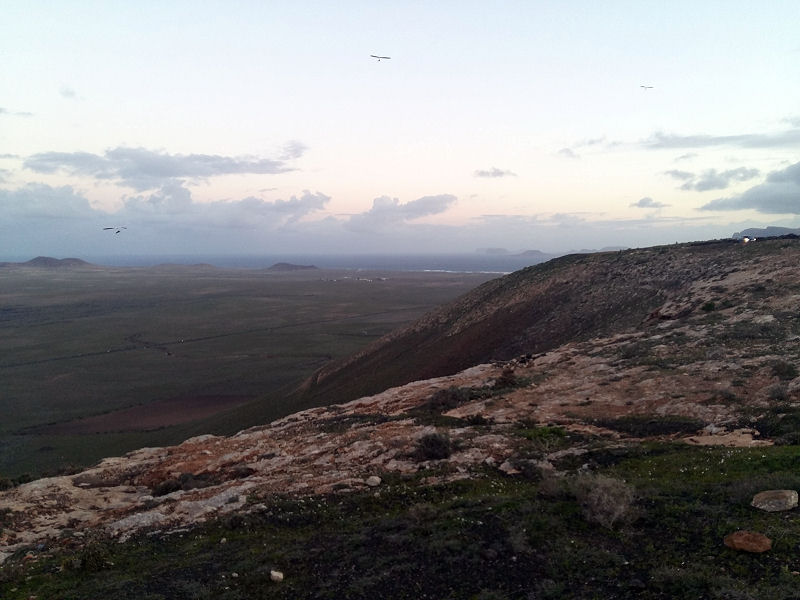 By the time the rest of the group had arrived, the wind had already started to increase. The pilots we discovered earlier had launched and Steve was ready with his hired U2 160. John B. assisted Steve to launch while the rest of us prepared ourselves and our gliders.
I initially began to rig my glider on the A-frame, well back from launch, but when it started to get blown across the stony ground, I flipped it around and continued to flat rig it. By the time I was ready, Steve, Rod and Mike had already set-off and were somewhere in the skies above, Ben was still rigging and John assisted us on the ground.
To say I was anxious was an understatement, with the wind increasing, not feeling particularly current, not in great health and with inbound weather to watch out for, there was much on my mind. Clipped in, I made my way around Ben then across to John, patiently waiting on launch. After my hang check was completed, John gave me one final brief then I instructed release. John skipped off to the right and when he was clear I launched, not the best as I rushed into my harness far too early, but the wings remained level and the glider began to climb. Mike was established some 200 feet above me and I was focussed on getting to the Famara cliffs. My vario emitted happy beeps so I continued to speed along the ridge in a northward direction where I slowly climbed and left Mike behind. Eventually I climbed above the Famara upper launch, crossed the first little crack in the hill before I reached the first obstacle, the aptly named, "Valley of Doom". This is a valley that must be crossed to reach the Famara cliffs, you need to be high enough to make the up-wind glide without disappearing in the lee of the spine at the end of the Famara cliffs. I decided on climbing a few more hundred feet before attempting it which was easily achieved with a single 180 back along the ridge.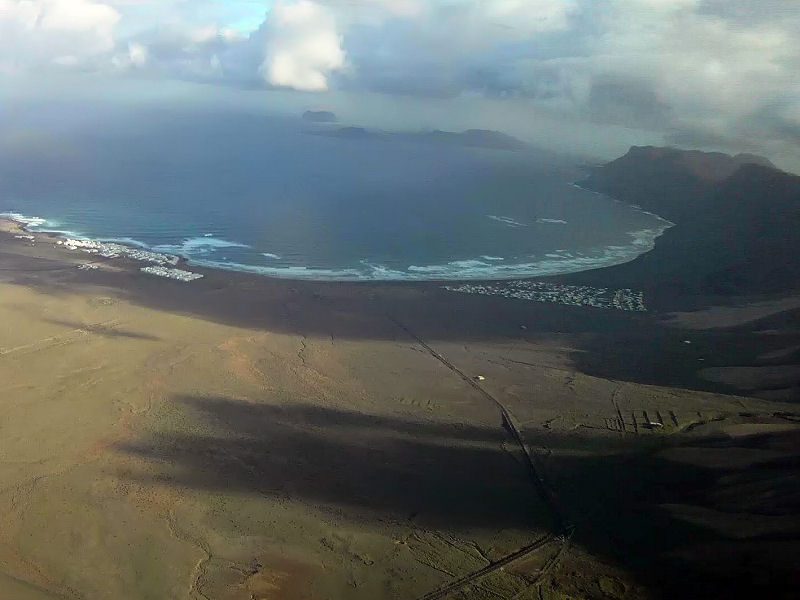 With my VG pulled fully on, my toes pointed and the bar pulled in for additional wind penetrating speed, I commenced my crossing of the Valley of Doom! I constantly used the top of the spine in front of me and the ground beyond it as a reference to judge my progress. With increasing amounts of ground being revealed beyond the spine, I was confident and I was soon on the start of the Famara cliffs. My vario confirmed this when it began to chirp happy beeps and I started to climb in this very smooth sea breeze.
When I learned I was headed to Lanzarote with the hang glider, there was only one thing I really wanted to do, to fly the Famara cliffs. The moment I had crossed the Valley of Doom and my glider began to climb, I had met my objective and I buzzed with childlike excitement! Even if the weather for the rest of the week did not play ball, I was more than content flying Famara!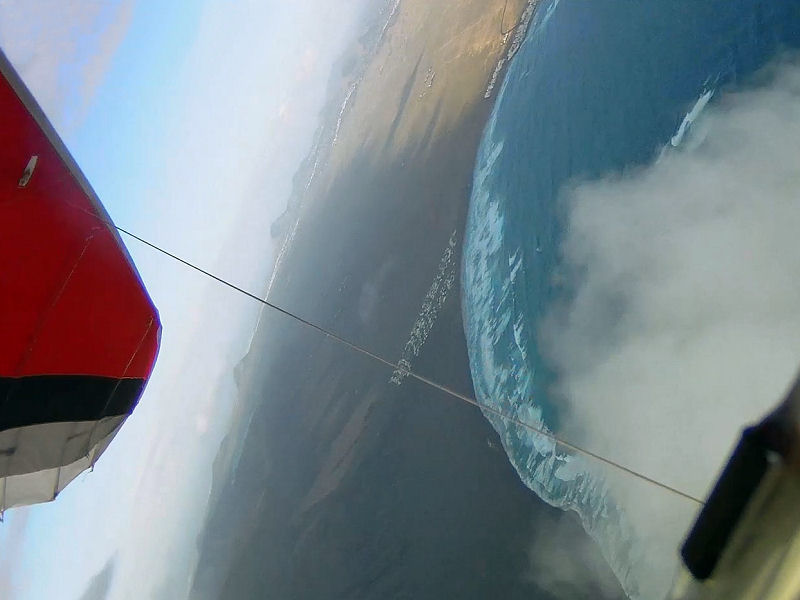 I continued northward along the steepening rugged slopes beneath me all the while looking ahead. I couldn't see any other gliders around, not a surprise considering the clouds had begun to lower and orographic clouds were forming just above the cliffs. I pushed on as far as I dared but with thickening clouds and clouds forming directly beneath me and light rain ahead, I decided to turn back. I was a little disappointed in myself for not pushing on to the end, but considered the conditions and that this was the very first time I had flown anything like this, it was the sensible choice. I did whoop with excitement when I flew around the edge of the orographic clouds, taking me several hundred metres out to sea before it was time to head back.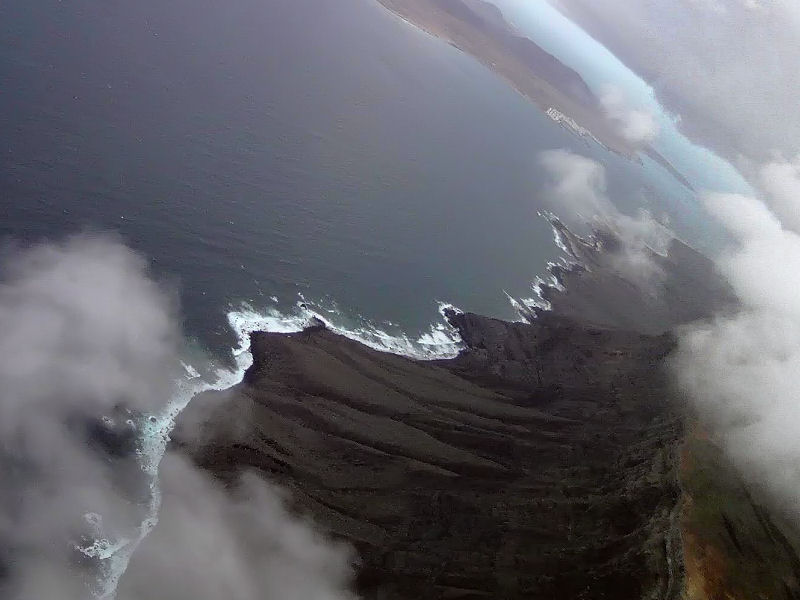 When I was back towards launch I noticed a rain front coming in from the west (with some lovely rainbows) and another from the north. It was coming up to 9:30am so I decided to land. Unfortunately, this was when things started to go wrong. The wind had increased quite dramatically and I was barely penetrating forwards and all the while, slowly descending. I pulled the VG fully on and began to slowly penetrate forwards and eventually arrived on the edge of the landing field, albeit it 400 feet or so above it. I began a turn to the left to line up for landing then turned back to the right after crossing the road. I then rushed on to the uprights and briefly popped the nose of the glider. I quickly recovered but it had already set the glider off on a turn to the left with the right wing raising and left lowering! Despite my best attempts to correct it, I was now just a passenger – I hadn't noticed it at the time, but still had the VG fully on which only exacerbated the situation! As the glider was now headed crosswind and still rotating I had no choice so planted it on the ground. The left wheel touched first and with a significant sideways velocity, I felt the left upright gently give as my hand pushed through it, followed by the nose of the glider hitting the ground. I had landed almost 180 degrees to the wind and with the wind trying to ground loop the glider, I was able to quickly run the glider around the nose to secure it and inspect the damage. The left upright was indeed folded and the right upright had sustained a small kink and slight bend, both needed replacement. Later inspections revealed that this was the extent of the damage!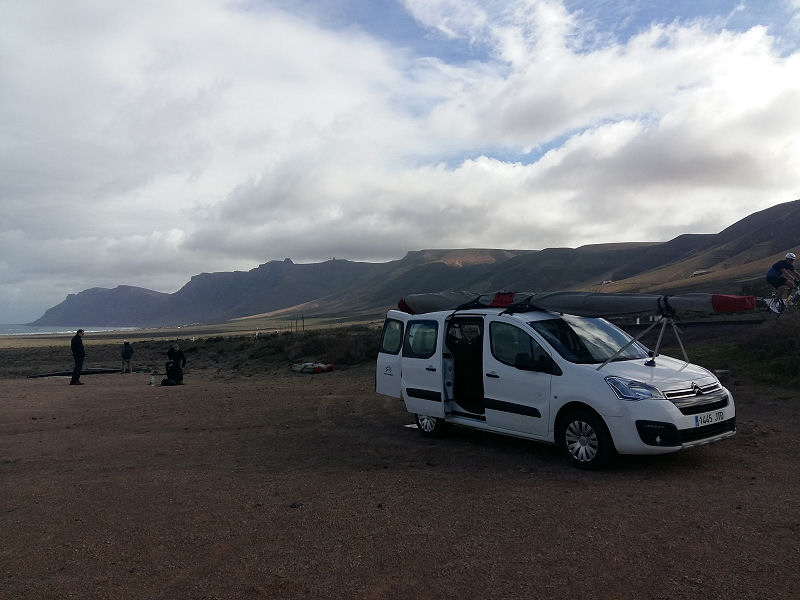 I was unfortunately not the only one having difficulty landing here, another pilot had an almost similar landing, landing in almost the same place I did and with the glider veering off to the left, although in my case, I'm confident it was my own poor piloting that induced this turn and the fact that the VG was on made it almost impossible to recover!
In terms of the weather, by 11am the top of the Farama cliffs were buried in thick grey cloud and I was soaked in a particularly heavy downpour when I walked along Famara beach with Rod. We all ultimately ended up in one of the local cafes where we enjoyed coffee and sheltered from the rain.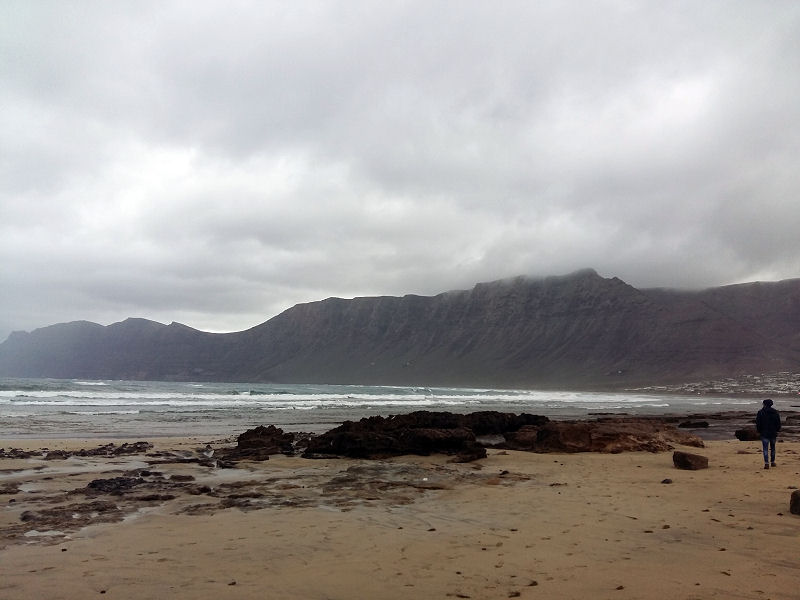 Famara
Video highlights of my flight from Famara and the famous Famara Cliffs. Unfortunately the battery on the camera did not last for the entire flight and missed my awful landing which resulted in two damaged uprights but it was worth it, this was a flight like no other that I have had to date!

00:04:00

Wednesday 7 Feb 2018

8 February 2018 - A Windy El Cuchillo
By Thursday the strong winds that we had become accustomed to had returned so it was declared Tourist Day. A trip to Lanzarote cannot be considered completed without a trip to the famous Mirador del Río café with its magnificent views from the Famara cliffs looking out towards the island of La Graciosa. There we enjoyed coffee and cake before setting off along a rough off-road track towards the Mirador launch for a look around and site brief from John. After which we headed down to the coast for a bite to eat at La Casita de La Playa.
Later that afternoon, we again headed to El Cuchillo as it was the most favourable site for the strong northerly winds that blew. Some bold pilots had rigged and ventured towards launch. Upwind, thick grey clouds were present and it was evident that some significant wet weather was inbound so we wisely left our gliders secured on our cars and watched some interesting high wind launches. Needless to say the weather arrived and those that were flying had to quickly land.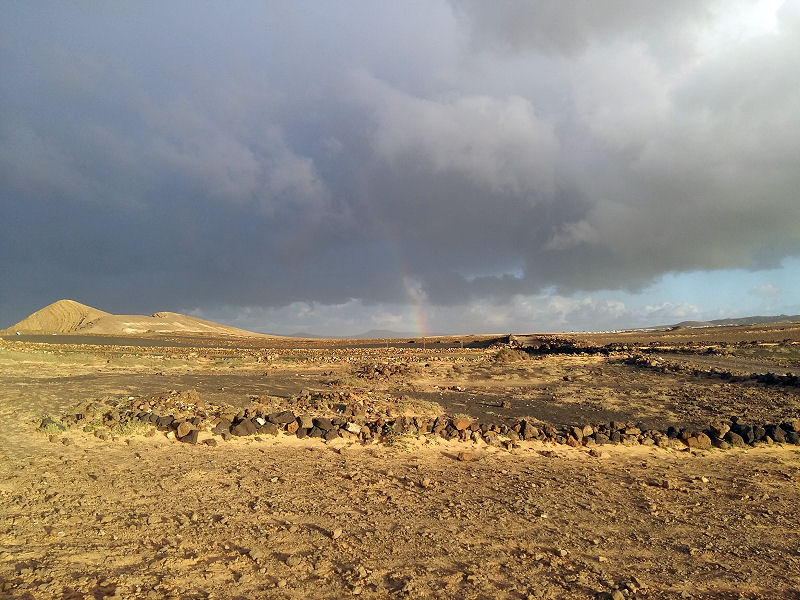 9 February 2018 - Tourist Day
By Friday, strong winds were well established across the island and each of us had made plans to entertain ourselves as again, flying was off the agenda. Ben had hired a motor bike and was content scrambling across the island on it. John, Steve and Rod decided to get the ferry to visit La Graciosa for a spot of lunch and Mike and I set off to visit more of Lanzarote's tourist destinations.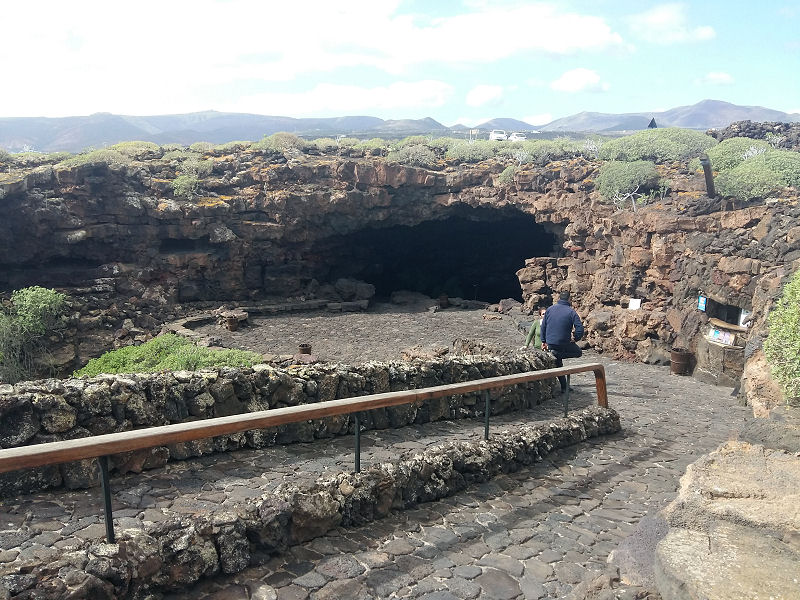 First on our itinerary was the amazing lava caves of Cueva de los Verdes, which included a nice little surprise at the end of the tour. We then headed the short distance to Jameos del Agua where we enjoyed a sort of steak in the restaurant (it wasn't quite what we had expected) and explored the cave and former house of Lanzarote's most famous and influential artist and architect, César Manrique.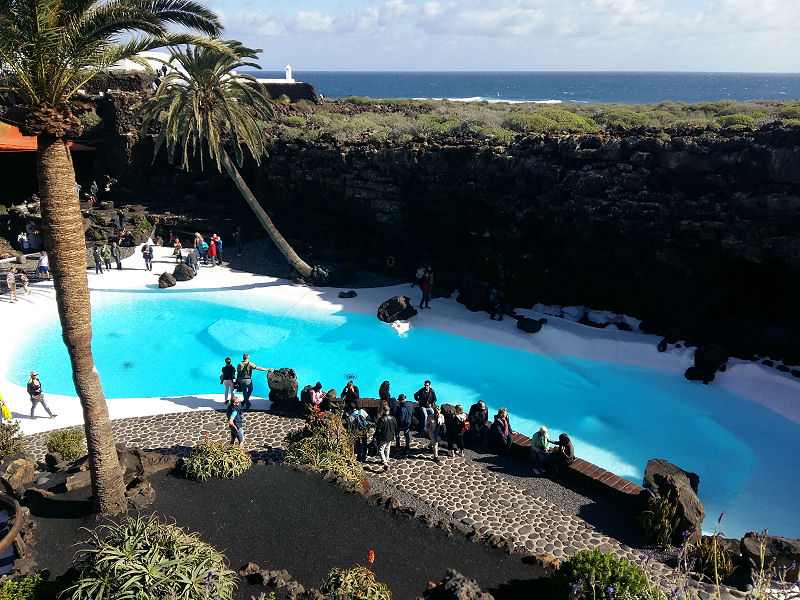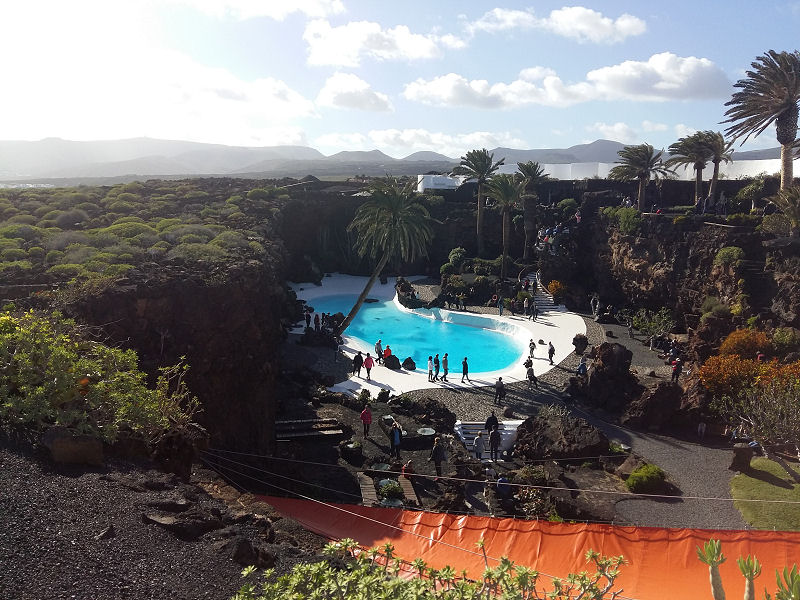 10 February 2018 - El Cuchillo
By Saturday, the weather hinted of improvement with a wind direction somewhere between north east and north. Compared to the rest of the week the wind was also reduced in strength. Famara and Mirador are primarily the two sites most hang glider pilots visiting Lanzarote want to fly, so with a slim chance that we may fly, we headed to Mirador.
We first visited Mirador's bottom landing field for a thorough landing brief from John, including landing approaches and alternatives before heading up to take-off. It was only when we arrived at the take-off that we realised that the wind was still strong but also too far off to the north, possibly with a touch of west in it, for us to fly Mirador. We were at the wrong site!
With El Cuchillo now looking like a more favourable site for both the wind direction and speed, we again set off towards it. Our first stop was the El Cuchillo bottom landing field. I don't think anyone was hopeful of flying and my own enthusiasm to fly had diminished, especially when I considered I still had to short pack my glider later. John gave another thorough brief before we set off to the El Cuchillo launch. I hadn't really expected to see many there, but to my surprise, people had rigged their gliders and began to launch.
It was of course, still windy, but nowhere near as bad as it had been. We all procrastinated about flying and ultimately, with the exception of Ben, declined and instead headed to a local restaurant for lunch. When we returned Ben had launched and had made the best of it and somehow Steve had found the enthusiasm to fly, putting the rest of us to shame.
After flying had concluded we were keen to get back to short pack our gliders ready for our return flight to Gatwick. This kept most of us busy for the afternoon and allowed us to see the different techniques employed by each to protect our gliders. I think Mike should have won a prize for the most extravagant effort, unfortunately when I spotted two spare uprights rested against the villa wall and realised they were Mike's, a degree of unpacking and repacking was required! That evening we headed into Puerto del Carmen for an Indian to celebrate the end of the week.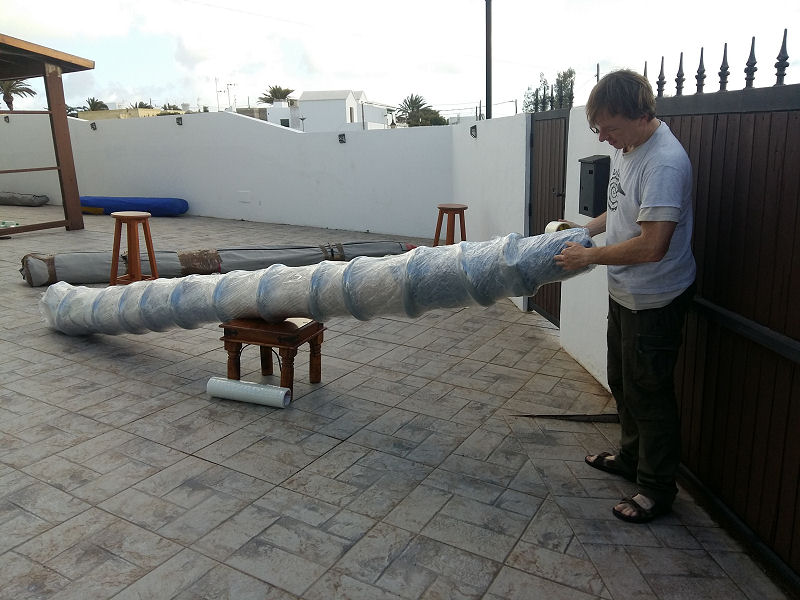 11 February 2018 - Goodbye Lanzarote!
Sunday morning arrived and the weather seemed to be getting better, too late for us unfortunately! With the gliders loaded on the cars and headed to Arrecife airport, we first detoured to Puerto del Carmen to collect one of the hire cars left there the previous evening. Apart from an exceptionally long queue at the airport check in, we boarded our flight on time without any issue (well, my glider had now put on an additional 10kg since its outward flight from Gatwick, weighing in at 37kg). I can only conclude that the ground staff at Arrecife airport are more versed with gliders than their counterparts at Gatwick!
The week seemed to pass so incredibly quickly. I had made some new friends and become reacquainted with some old ones. I had overcome my fear of travelling with my glider and had flown one of the most famous ridge runs in Europe. Even though we were incredibly unlucky with the weather, with that one flight, I had met my objective for the holiday. I did however detect an element of disappointment from John; having arranged the holiday and being our flight guide for the week, for the weather not to cooperate must had been incredibly frustrating. This is an unfortunate risk we all accept when booking these types of holidays. For me personally, to fly Famara was simply amazing and to share this week with such a good bunch of guys complemented the trip perfectly.
Needless to say, a big thank you has to go to John Barratt from South Downs Hang Gliding for arranging the entire trip, my partner Loretta for making it possible, and to all the guys: Mike, Steve, Ben and Rod for such a good blast!
Video highlights of my hang gliding trip to Lanzarote with South Downs Hang Gliding.
Trip Details
For those considering a trip overseas and for my own future reference, I've included below a few useful points about the trip:
Insurance
AXA Travel Insurance, Gold Cover, at £50 for the period 3 February to 11 February 2018. Policy included Emergency Medical and Repatriation Expenses up to a maximum of £15,000,000, personal belongings up to a maximum of £2,500 with a single item limit of £500 (which won't really cover the value of the glider!). Policy also had Hang Gliding added as a specific sporting activity for the cover period.
Flights
Flights booked with EasyJet. Hang Gliders accepted and cost of shipping at £42 per flight - 32kg maximum for a single item (guess they would charge more if this is exceeded). I couldn't find anything specific about the maximum length of the package, but there must be a limit. Additional hold luggage (23kg) £32 per flight - that was my harness, helment and clothes for the week.
Hang Glider Hire
Johnny Nilssen hires many of Wills Wings popular hang glider models; he's based in Yaiza, Lanzarote. I sourced spare uprights for my Wills Wing U2 from him during my trip to Lanzarote. Steve also hired a Wills Wing U2 160 from him for the week; it was a very tidy glider! Johnny's Facebook page can be found here: https://www.facebook.com/Hanggliderlanzarote/.
Glider Packing
I've written an article, 'Packing for Air Transport' of how I packed my glider for this specific trip.
<!-main-content-->