New Duration Personal Best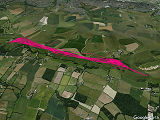 Summary of flying for Sunday 13 November 2016
| | |
| --- | --- |
| Total Hours | 2h 25m |
| Best Height Gain | 587 feet |
| Total Flights | 1 |
The days leading up to the 13th I seriously procrastinated between Firle and the Devil's Dyke as forecasts were a little uncertain and changeable. Like everyone else, I decided to leave it until Sunday morning and by then, the forecast showed a hint of west in the dominant northerly wind. It was decided; Devil's Dyke!
I arrived at the Dyke by 10am and quickly rigged my glider. I was keen to try my new SJCAM for still photos and wanted to attach it to one of the sprogs; but decided against playing around with camera equipment and instead purely focused on flying. I couldn't help myself and elected to use one piece of technology, my Garmin GPSmap. I switched it on, stowed it in my harness and forgot about it until I recovered it after my flight.
By 11am, after I had rigged my glider at the edge of the Paddock I was ready. After being assisted around the gliders that had appeared around me, I made my way to the front of the hill. My launch was good and after a couple of beats on the pub hill I headed off down the Truleigh Run. Headed westward, I progressed slowly and found the air a little rough downwind of some of the spurs (as expected). Most of the traffic had congregated at the Devil's Dyke end of the ridge so the Truleigh Run, for the most part, was clear sky.
With a consistent moderate wind that blew from the north-west, the entire ridge worked well and I easily flew back and forth along the ridge. I was surprised by a number of snotty thermals that occasionally tossed my glider around. Some could be exploited to make some moderate height gains (not bad for the time of the year). At one point I estimated that I was around 100 feet below cloud base but was unable to climb any further, not for want of trying!
I lost count how many times I had flown to Truleigh and back and soon realised that I was close to setting a new duration personal best. I had also become aware that I had left my car keys in my breast pocket and it had started to become a little uncomfortable.
As the day progressed I continued to blast back and forth along the ridge and experimented flying the U2 fast in preparation for aerotowing. Upon examination of the GPS track log later, I determined I had achieved a maximum 80 km/h ground speed. I even tried to match or exceed the speed of the cars travelling along the road at the bottom. This was easily achieved when headed downwind on return to the Dyke but somewhat more difficult when headed in the opposite direction!
By early afternoon the ridge had started to become busy with hang gliders, tandem hang gliders, sail planes and planes. I had now exceeded two hours airtime and was wary that I had become cold and was a little fatigued. It was time to land so I headed back towards the Dyke in preparation for this. After 4 half-hearted attempts at landing in the Paddock, all aborted due to traffic (mostly a Tandem hang glider beating back and forth across my chosen landing approach), I decided on simplicity and landed just behind the main bowl next to a collapsed glider that had been left there.
With the tendonitis in my wrist once again giving me some pain I decided after 2 hours and 25 minutes airtime, that that would be sufficient for today. Awesome!
Flying Log(s)
---
| | |
| --- | --- |
| Type | Hill Launch |
| Date | Sun, 13 Nov 2016 - 11:15 |
| Glider | Wills Wing U2 160 |
| Site | Devil's Dyke |
| Duration | 02h 25m |
| Comments | New personal best for flight duration! NNW 15-20 mph. Truleigh ridge worked all day. Some punchy thermals, but difficult to stay with them. Almost made cloud base that was estimated to be 1600ft amsl. Landed in large field as Paddock was busy. Some stats from the track-log: Max Speed: 80 km/h; Total Distance: 71.3 km, Out and Return: 8.25km, Greatest Distance between two points: 4.18km. |
| Height Gain | 587 ft |
| Distance | 4.18 km |
| Total Hours | 90h 32m |
---
Total Flying Statistics
The total flying statistics up to and including 13 Nov 2016:
| | |
| --- | --- |
| Total Hours | 90h 32m |
| Longest Flight | 2h 25m |
| Gliders Flown | 5 |
| Unique Sites Flown | 20 |
| Best Height Gain | 3,000 feet |
| Total Distance | 50.9 km |
| Furthest Flown | 13.4 km |
| Total Flights | 275 |
| Hill Launches | 148 |
| Winch Launches | 105 |
| Aerotow Launches | 22 |
---
<!-main-content-->