Hang Gliding Diary 2016
You are currently viewing my hang gliding diary for 2016. The summary for the year is shown in the table below. For more details on a specific day, please select the respective entry from the list below.
---
Total Hours :
9h 52m
Longest Flight :
2h 25m
Gliders Flown :
1
Sites Flown :
4
Best Height Gain :
1,023 feet
Total Distance :
12.5 km
Furthest Flown :
5.8 km
Total Flights :
10
Hill Launches :
10
Winch Launches :
0
Aerotow Launches :
0
---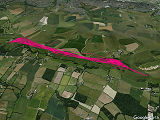 Sunday 13 November 2016
Flight 1: U2 160; Devil's Dyke; 2h 25m; 587ft; New personal best for flight duration! NNW 15-20 mph. Truleigh ridge worked all day. Some punchy thermals, but difficult to stay with them. Almost made cloud base that was estimated to be 1600ft amsl. Landed in large field as Paddock was busy. Some stats from the track-log: Max Speed: 80 km/h; Total Distance: 71.3 km, Out and Return: 8.25km, Greatest Distance between two points: 4.18km.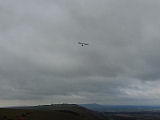 Saturday 5 November 2016
Flight 1: U2 160; Devil's Dyke; 0h 41m; 285ft; With a forecast for moderate winds gusting, I wasn't too eager to launch. Instead, I'd check the glider over after its recent service. Eventually I was convinced to launch and flew to Truleigh and back two times followed by one overshoot in the Paddock and one successful landing (I think my first in the Paddock on this glider and the first time since my accident!).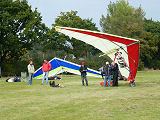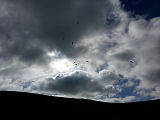 Sunday 2 October 2016
Flight 1: U2 160; Devil's Dyke; 1h 11m; 200ft; Early start was required. Wind dropped off throughout morning. After 3 attempts I scratched all the way down to Truleigh Hill; soared with a bird of prey, then returned to a very busy Devil's Dyke. Couldn't get high enough to top land so elected to bottom land as the sky was getting busy with traffic - hang gliders and paragliders.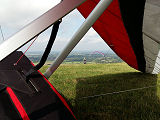 Sunday 18 September 2016
Flight 1: U2 160; Devil's Dyke; 0h 03m; 0ft; After hours of waiting around (having arrived at 8am); the skies filled with paragliders. I decided on a top to bottom. With a touch of east in the wind, timing take-off was critical.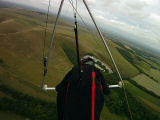 Saturday 3 September 2016
Flight 1: U2 160; Mount Caburn; 0h 38m; 350ft; Windy on top of Caburn as the sea air started mixing. SSW-SW 20-25 mph (gusty). Rough on landing approach - need to get hands on uprights much earlier!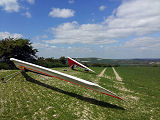 Saturday 14 May 2016
Flight 1: U2 160; Firle; 0h 06m; 60ft; Not the day everyone expected. The ridge didn't really work well so timing launches to coincide with a thermal was critical to staying up. In my case, bad timing and flying in traffic meant a bottom landing was inevitable. On a positive, I used my new helmet and managed to squeeze my U2 into a recently repaired XC bag!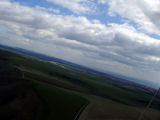 Sunday 24 April 2016
Flight 1: U2 160; Devil's Dyke; 1h 21m; 963ft; Windy NNW-N; 15mph-20mph, gusting more? Flew to Truleigh Hill and pushed out over Small Dole. Spring thermals, very rough and sinky at times. Top landed in the bowl. Aborted another flight when the wind picked up more.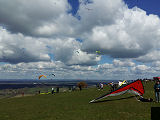 Sunday 17 April 2016
Arrived with the intent to fly, but with the light winds and the skies periodically flooding with paragliders, I opted not to fly today. So, the glider was rigged and de-rigged without flying.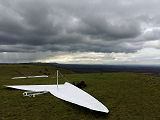 Saturday 16 April 2016
Flight 1: U2 160; Devil's Dyke; 0h 40m; 600ft; Waited most of the afternoon for the weather to come through. Launched after rain and slowly made it to Truleigh and back. Wind was moderate and at times felt like it had a bit of east in it. Top landed on the wheels when I got dumped in the large field at the back.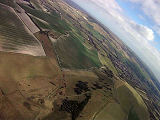 Sunday 20 March 2016
Flight 1: U2 160; Bo Peep; 1h 01m; 1023ft; Back at Bo Peep - a little windy to start off with. Flew to Firle Beacon but didn't really climb. Paraglider's bowl worked best. Thermic day concluded with an easy top landing.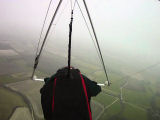 Tuesday 15 March 2016
Flight 1: U2 160; Bo Peep; 1h 46m; 720ft; First flight in a long while. Take-off was a little rough, clouds thickened during flight. Some rough thermals. Made cloud base and got sucked up for a very short period. Flew out front and landed next to the A27. Ian White came to retrieve me!
<!-main-content-->