Caburn Conquered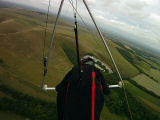 Summary of flying for Saturday 3 September 2016
| | |
| --- | --- |
| Total Hours | 0h 38m |
| Best Height Gain | 350 feet |
| Total Flights | 1 |
I'd wanted to fly Caburn ever since I'd flown there during my CP training with John Barratt many years earlier [9 March 1999]. Back then myself and glider, a school Aeros Target 16, had been driven to the top of the hill via the track at the rear. What followed was two sled rides to the bottom, but it had left a lasting impression!
Telegram is now the preferred method for hangie pilots on the South Downs to communicate and on Saturday morning, Luke had advertised for someone to help carry his gear to the top of Caburn for a Tandem experience he was giving. The night before I had looked at the forecasts and wrongly concluded it would be too windy! With that prompt from Luke, a significant period without airtime, and family responsibilities delegated, I headed to Caburn.
The reason why many hang gliders pilots do not fly Caburn is there's no vehicle access to the top. All gear has to be lugged up manually. My glider weighs in excess of 30kg and another 15kg for harness and respective gear, so a hang glider pilot that wanted to fly Caburn has to have some dedication. For that reason, Caburn had predominately become an exclusive paragliding site; that is, until today!
In preparation for this day I had purchased a kayak trolley that I intended to attach to my glider so I could drag it up the hill, saving my back from injury! I had planned two journeys; the first to take the glider up (minus the base bar and batons), and the second to bring the rest of my kit (harness, helmet, batons and base bar etc). I'd bring the trolley down after my first trip up as I couldn't fly with it. It was a sound plan but meant two journeys up the face of Mount Caburn. I had the required motivation!
For early autumn it was especially warm so by the time I had dragged my glider to the top I had worked up quite a sweat. Luke and Andy were a short distance behind carrying up the Tandem with passengers following on foot. On top of the hill were a number of paraglider pilots, all packing their gear away; I think it had become too windy for them! After some hellos, it was evident that they hadn't grasped the magnitude of lugging a hang glider up a hill compared to walking up with a paraglider! The wind was also on the increase and the few paragliders that remained in the air were headed for the bottom landing field.
After a brief rest and drink, I left my glider on the hill top and returned to the bottom. I took my kayak trolley back down with me. At the bottom, John, Andy, Nicos and Maciej had arrived. I loaned my trolley to Maciej and Nicos lent John his golf trolley to John. They used these to drag their own gliders to the hill top. I quickly gathered the rest of my gear and walked back to the top and was reunited with my glider. I now had everything I needed to fly!
Luke briefed me on the weather conditions and pointed out the approaching sea air. He said to get off as soon as I could otherwise I'd be in rough mixing sea air. With that valuable brief, Luke hopped into his Tandem glider and flew it about to test the conditions - he made it look effortless and smooth!
I soon had my glider rigged and needed support from Andy to get it upright and checked over. The wind had increased and was near my upper comfort limit - especially so considering that I last flew in May (4 months earlier).
Luke had now launched with his passenger and began boating back and forth. We could all hear screams from his female passenger; but we couldn't tell if it was screams of excitement or fear! Later we learned it was from pure excitement! I had, with the very much appreciated assistance from Andy, moved to the front of the hill with my glider. A couple of times the glider picked me up, but with Andy firmly on the nose wires the glider remained firmly under control. It was so windy now that I decided to launch one hand on the base bar and the other on the upright. This gave me the best control authority over the glider.
I'd waited for the gusting wind to ease and instructed 'Release' when it did. Andy released the nose wires and rolled away under the glider with commando like style! I was airborne and flying Caburn! An ambition to fly a memorable site from long ago now realised and the effort of lugging up the hill rewarded!
After a rough launch and some gnarly air had thrown my glider around, I had established myself just above the hill top and began to work the two little bowls to the west of launch. I shared this airspace with Luke and his passenger. Below, Maciej and John had rigged their gliders and had joined us in the air. There were now a total of 4 hang gliders flying Caburn. It must have been sometime since this had last happened - the hangies are back!
The air was periodically rough and there were few thermals to be exploited. Those thermals that could be exploited soon had to be left as the drift over the back was very pronounced. I had topped my height up several times using them until I noticed a strange lift line out from the hill. I followed this and was able to push out and cross the A27. As I looked back at Caburn and the views before me I couldn't help but think that this is such a wonderful site that needed to be exploited by hang gliders - the paraglider's secret was now out!
Strangely, I had found myself quite some distance from the hill and several hundred feet above it. I executed a number of 360's and climbed a little. I started to contemplate what I should do next; return to the hill; head over to John's place and say hello or make my way to the bottom landing field? The climb up the hill and my failure to replenish lost fluids had resulted in a thirst that I needed to address. I looked down and saw my car parked in the bottom landing field below and with the knowledge that I had a flask of coffee there ready to greet me, set me on a flight path back to the bottom landing field. I was surprised how buoyant the air had become and took some considerable time coming down - Nicos later commented on a forum to that fact. I had to execute a number of 360 degree turns to burn off my height before lining up for a bottom landing. A landing target had been etched in the ground by the paragliding pilots that often fly there - I believe the aim of this is to encourage them to land in this area and avoid over flying the cottages at the side of the hill. I decided to see how close to this I could land. Unfortunately, as I descended I encountered some very rough air. I had also forgotten to release my VG and as a result, was flying with two thirds of it pulled on! My glider was tossed left and right and I struggled to keep the glider on target as I battled through this rough air. I would normally have transitioned to the uprights early, but failed due to my hands firmly gripping the base-bar - a brief white knuckle ride! By the time I was through the worst of it, I had very little time to get onto the uprights - however, I somehow managed it and landed without event (it must have looked ugly - I had clocked Luke filming as I approached - expect more video footage to emerge!). I felt an amazing sense of accomplishment for not only getting up to Caburn with my kit, but to also have what I considered a very fulfilling flight. I've not been put off and will again fly Caburn another day! Caburn Conquered!
Flying Log(s)
---
| | |
| --- | --- |
| Type | Hill Launch |
| Date | Sat, 03 Sep 2016 - 12:30 |
| Glider | Wills Wing U2 160 |
| Site | Mount Caburn |
| Duration | 00h 38m |
| Comments | Windy on top of Caburn as the sea air started mixing. SSW-SW 20-25 mph (gusty). Rough on landing approach - need to get hands on uprights much earlier! |
| Height Gain | 350 ft |
| Distance | |
| Total Hours | 86h 12m |
---
Total Flying Statistics
The total flying statistics up to and including 03 Sep 2016:
| | |
| --- | --- |
| Total Hours | 86h 12m |
| Longest Flight | 1h 46m |
| Gliders Flown | 5 |
| Unique Sites Flown | 20 |
| Best Height Gain | 3,000 feet |
| Total Distance | 46.7 km |
| Furthest Flown | 13.4 km |
| Total Flights | 271 |
| Hill Launches | 144 |
| Winch Launches | 105 |
| Aerotow Launches | 22 |
---
<!-main-content-->