Firle - The Rough Bits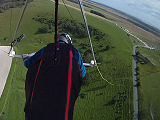 Summary of flying for Saturday 28 August 2021
| | |
| --- | --- |
| Total Hours | 0h 35m |
| Best Height Gain | 300 feet |
| Total Flights | 1 |
Like 2020, 2021 had been dominated by Covid-19. For the most part, friends and family had avoided the virus, but the impact of lockdowns and associated restrictions, had meant flying was way down the priority list. Besides, it wasn't like the weather had played ball either; I hadn't really missed many flyable days!
I was mindful of how much time had elapsed since my last flight, and having only flown once in 2020, I considered myself exceptionally non-current and had begun to feel increasingly risk adverse! Was hang gliding really worth the risk? I really needed to get over this by jumping back in the saddle. Everything seemed to conspire against me as the year slowly slipped away without a single flight! Other pilots that I had often flown with had recently dropped out of the sport, all for their own personal reasons, but sadly, it appeared to be a growing trend. I really didn't want to join the statistics counting towards the continual demise of hang gliding, so gave myself a much needed proverbial kick up the rear and began to focus on getting back into the air!
On Friday evening there was debate on the local Telegram group about flying over the weekend. A high pressure system sat above the UK and forecasts suggested the wind would be blowing somewhere from the north, north east. That meant Bo Peep or Firle would likely be on; the dilemma, which one?
Saturday morning arrived and Johnny, already on the hill, posted on Telegram that he was at Bo Peep but headed to Firle as the wind had more north in it. Firle is on the way to Bo Peep, so I decided to stop off there first to see what was happening.
The wind was gusty and strong but it felt bang on the hill. Johnny was almost rigged and Steve, a recently qualified pilot, was keen to get going. John and myself briefed Steve and suggested he wait it out to see if the conditions would improve, particularly with regards to the gusts, which was also a concern of my own.
After an hour the gusts appeared to lessen and with Johnny, John and Maciej having flown or still being aloft, things started to look better for Steve so he launched with assitance from John. The air wasn't particularly buoyant so I decided not to launch, which allowed Steve to explore the full ridge without the stress of flying with another glider. When it was evident he was headed down, I returned to my glider, clipped in and with assistance from John, made my way to launch.
With John under my right wing, things looked good for launch. It was at that moment a sudden gust ripped through. I didn't need to ask John for assistance, he simply leaped from his perch and held the nose of the glider until the gust passed. While I thought I had it under control, I certainly appreciated John's intervention.
Just as suddenly as the gust came, it abated and I launched. My launch was a little rushed and I soon established myself above Firle, beating back and forth from one side of the bowl to the next. I struggled to determine the true wind direction as the geography of the hill tends to funnel the wind on to launch. If the wind is slightly off, you normally feel it as lift on the face of one spur and rotor off the other. I encountered such rotor off the spur to the West which resulted in an impromptu dive and a skipped heart beat! After I had recomposed myself I headed off to the other side of the bowl and to my surprise, encountered the very same thing! This set a continued trend for the flight and required active flying throughout.
There were thermals present but I assume due to the high pressure and wind, they didn't really want to climb. Instead it felt like they were ripped apart with a tendency to flow up the slope without really breaking free of it. This may well have explained the gust felt shortly before I launched, and the difficulty I had trying to gain height!
After 25 minutes of what can best be described as physically demanding flying with snotty thermals followed by rough sink, I had failed to make any significant height so a top landing was off the agenda. As another sink cycle began, I found myself below take-off and unable to climb without flying close in to the hill - something I didn't particularly fancy in the lively conditions. Steve had already landed at the bottom so I set off to join him!
It was one of the most physically demanding flights I'd had in a while and while parts of it were enjoyable, there were also some not so enjoyable bits! It was of course great to finally get back into the air. I had clearly worked hard while flying and after I'd carried my glider across the bottom landing field, I dripped in sweat and was desperate for fluids. I normally carry a water bottle in my harness for such events, but didn't today! I had to wait until I'd walked back to the top of the hill before I could refresh myself!
Once rehydrated, I returned to my glider, de-rigged, packed it up and loaded it on the car for the trip home. That was me done for the day as I had to get back home as had promised the littles ones we'd be camping in the garden! Hopefully, this will be the first of many more flights to follow - watch this space!
Those out: Myself, Johnny, John Mc, Steve, David and Maciej.
---
Video Highlights
---
Flying Log(s)
---
| | |
| --- | --- |
| Type | Hill Launch |
| Date | Sat, 28 Aug 2021 - 13:51 |
| Glider | Wills Wing U2 160 |
| Site | Firle |
| Duration | 00h 35m |
| Comments | NNE; 15mph gusting; High pressure, punchy broken thermals. Lots of sink, hard work flying, bottom landed. |
| Height Gain | 300 ft |
| Distance | |
| Total Hours | 98h 01m |
---
Total Flying Statistics
The total flying statistics up to and including 28 Aug 2021:
| | |
| --- | --- |
| Total Hours | 98h 01m |
| Longest Flight | 2h 25m |
| Gliders Flown | 5 |
| Unique Sites Flown | 21 |
| Best Height Gain | 3,000 feet |
| Total Distance | 70.9 km |
| Furthest Flown | 13.5 km |
| Total Flights | 290 |
| Hill Launches | 160 |
| Winch Launches | 106 |
| Aerotow Launches | 24 |
---
<!-main-content-->